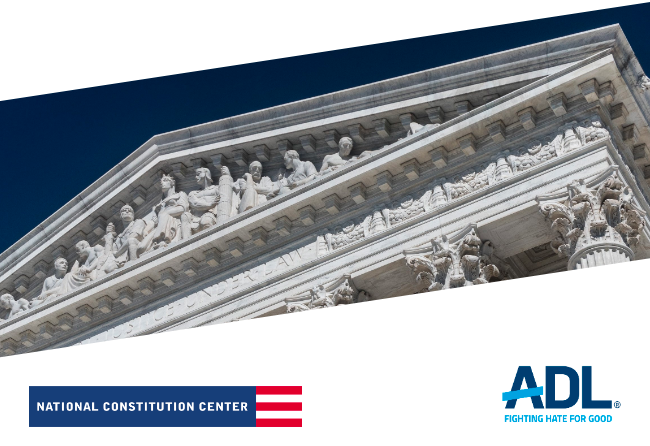 On July 8th, ADL and the National Constitution Center virtually hosted the 22nd Annual Supreme Court Review. Watch the program here.
This year's distinguished panel featured Erwin Chemerinsky, legal scholar of constitutional law and federal civil procedure and Dean of the University of California Berkeley School of Law; Frederick Lawrence, 10th Secretary and CEO of the Phi Beta Kappa Society, Distinguished Lecturer at Georgetown Law Center and author of "Punishing Hate: Bias Crimes Under American Law;" Paul Clement, the 43rd Solicitor General of the US, Partner at Kirkland & Ellis LLP, and Distinguished Lecturer at Georgetown University Law Center; and Melissa Murray, NYU Professor of Law, where she teaches constitutional law, family law, criminal law, and reproductive rights and justice, serves as a legal analyst for MSNBC, and hosts the podcast "Strict Scrutiny."  The panel was moderated by Dahlia Lithwick, a Senior Editor at Slate.com where she covers the Supreme Court and hosts the legal podcast "Amicus."
The panel discussed and provided insight into the most important rulings of the term. They noted how the addition of Justice Amy Coney Barrett to the Supreme Court has and will continue to affect the court as a whole. A phrase used to sum up the term by the panelists was "a court in transition." The panelists focused in part on the shift towards increased judicial conservatism as evidenced by many of the Supreme Court's decisions this year.
As the panelists looked to the future of the court, they all had similar views on where it is heading. Mr. Chemerinsky summarized, "There is always a tension between liberty and equality. Any law that limits discrimination limits the freedom to discriminate." While the future of the court is unknown, the panelists agreed that it will most likely spend the next year taking on large cases that center around social issues that are on the forefront of Americans' minds.
Click here to view a full recording of the program and for more information including speaker bios and the cases discussed by the panel.