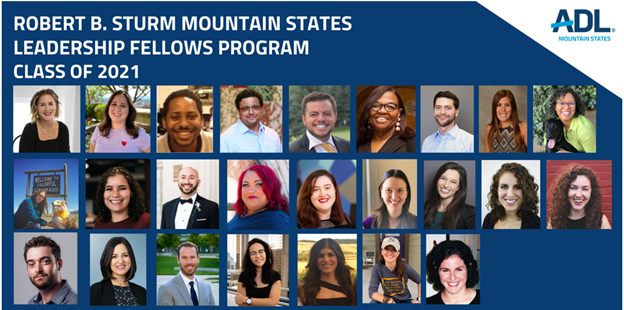 Twenty-five members of the Anti-Defamation League's (ADL) 2021 Robert B. Sturm Mountain States Leadership Fellows Program graduated on Thursday, September 23—the largest graduating class in the region's history.
The nine-month Robert B. Sturm Mountain States Leadership Fellows Program, part of ADL's Glass Leadership Institute, is a nationally recognized leadership development program that provides participants with an insider's perspective on ADL as one of the nation's leading anti-hate organizations. The program was created to involve people, ages approximately 25-45, who are committed to ADL's mission "to stop the defamation of the Jewish people and to secure justice and fair treatment to all."
From January through September, participants engaged virtually with ADL experts and community leaders in interactive sessions covering the full range of issues on ADL's agenda, including antisemitism, civil rights and advocacy, education, cyberhate and abuse, international affairs and extremism. Participants had the opportunity to attend ADL's National Virtual Leadership Summit and were also able to lobby Colorado state legislators on ADL's legislative priorities.
Congratulations to the Sturm Fellows Class of 2021
Caroline Arendall
Kate Berman Stein
Osprey Brown
Seth Cohn
Cass Daniels
Sharletta Evans
Jake Feiler
Helene Feldman
Tiziana Friedman
Brooke Garcia
Elana Graf
Jacob Hertzig
Joy Jaeger
Alana Mancuso
Julie Lickstein
Tanya Nathan
Andrea Newman
Rachel Seiger
Sam Shine
Becca Reiman Smith
Jesse Smith
Amelia Tenne
Jessica Thompson
Angela VanDijk
Sari Weichbrodt
The program will be accepting applications for 2022-2023 in Summer 2022!
To nominate an individual for the Robert B. Sturm Mountain States Leadership Fellows Program, click here.