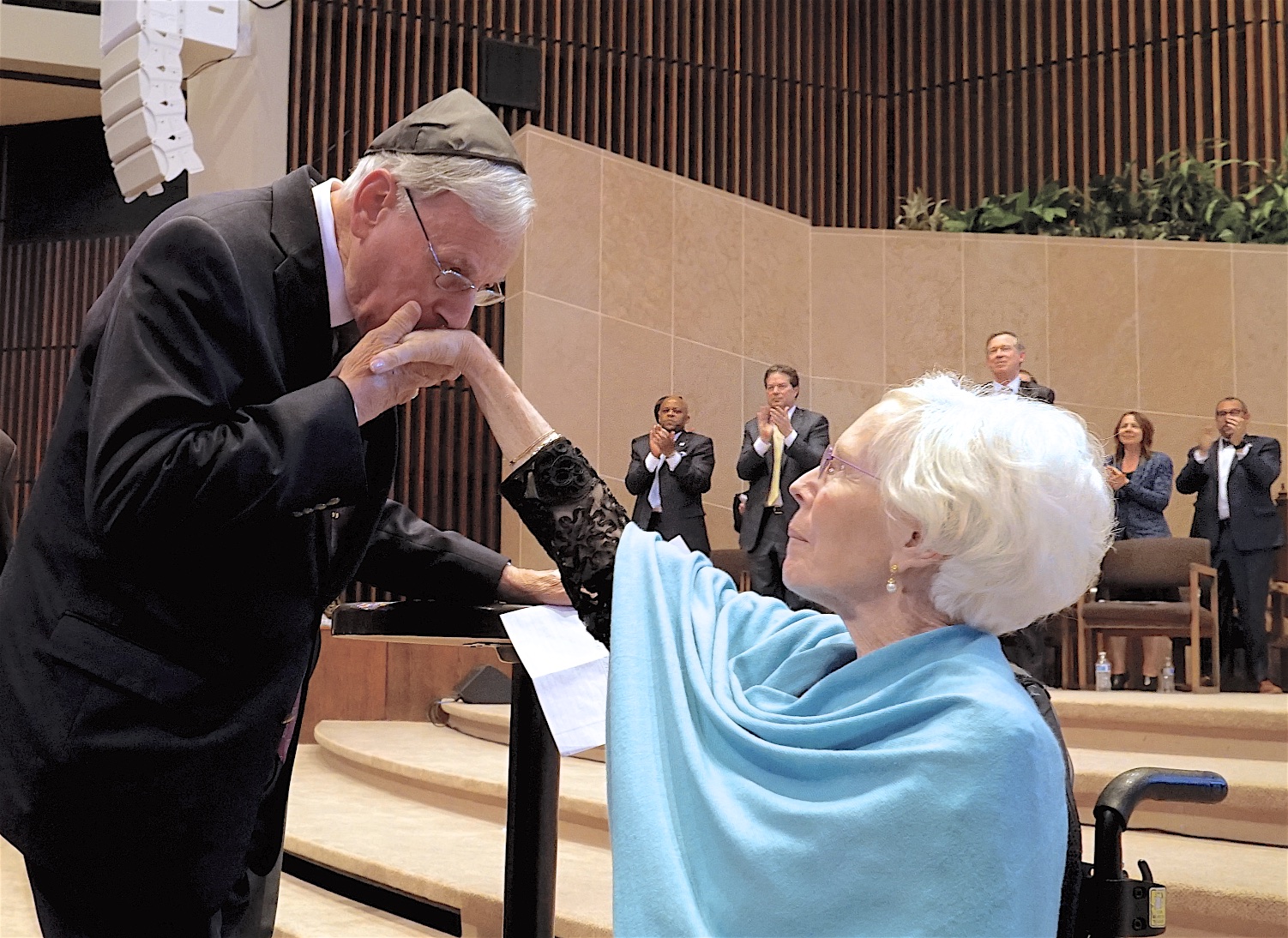 Although we are not able to join together person this year for ADL's annual Governor's Holocaust Remembrance Program, we are fortunate to have video recordings of past programs that you can view today. These records of remarkable keynote presentations, as well as video footage of only the second presentation of the Righteous Among the Nations recognition ever in Colorado, are a testament to the importance of Holocaust remembrance and education. We hope you find them as meaningful and moving as we do.
2016: Keynote Speaker – Holocaust Survivor Margit Meissner and Presentation of Righteous Among the Nations to the Family of Dr. Maria Kiss Madi
The 2016 program featured the presentation of the Righteous Among the Nations to the family of rescuer Dr. Maria Kiss Madi (beginning at approximately the 30 minute mark) and keynote remarks by Survivor Margit Meissner (beginning at approximately the 1 hour mark). https://www.youtube.com/watch?v=yW3HAzemkHE
Margit Meissner, now age 98,  travels the world on behalf of the US Holocaust Memorial Museum and Women to Women International speaking about her remarkable escape from war-torn Europe, a career that took her all over the world including to the Nuremburg Trials, and her ongoing mission to shed light on modern-day genocide and the current refugee crisis. Ms. Meissner is also the author of the memoir Margit's Story.
2017: Keynote Speaker – Infant Survivor Hannah Berger Moran
Dr. Hana Berger Moran, an infant survivor of the Holocaust, was born in a slave labor camp weighing less than three pounds to a mother who weighed 70 pounds in her ninth month of pregnancy. Hana and her mother miraculously survived the death march to Mauthausen concentration camp where they were liberated by American soldiers. Hana's story is featured in the best-selling book Born Survivors by Wendy Holden.
Holocaust Survivor Sidney Zoltak survived the final fourteen months of the Holocaust hidden in shelters dug below the outbuildings on a farm in Poland. The final family that hid Zoltak and his parents was designated as "Righteous Among the Nations." Zoltak immigrated to Canada after the war. His story is recorded in the memoir  My Silent Pledge.
2019: Keynote Interview with Survivor Gene Klein and Second Generation Survivor Dr. Jill Klein
In the spring of 1944, when Gene Klein was 16 years old, he and his family were deported from their home in Hungary to the Auschwitz-Birkenau concentration camp in Poland. With an abundance of luck, a resilient mindset, and a powerful will to live, Gene managed to survive until his liberation by Soviet soldiers at the end of World War II. Gene's story is captured in We Got the Water: Tracing My Family's Path through Auschwitz, written by his daughter Dr. Jill Klein.