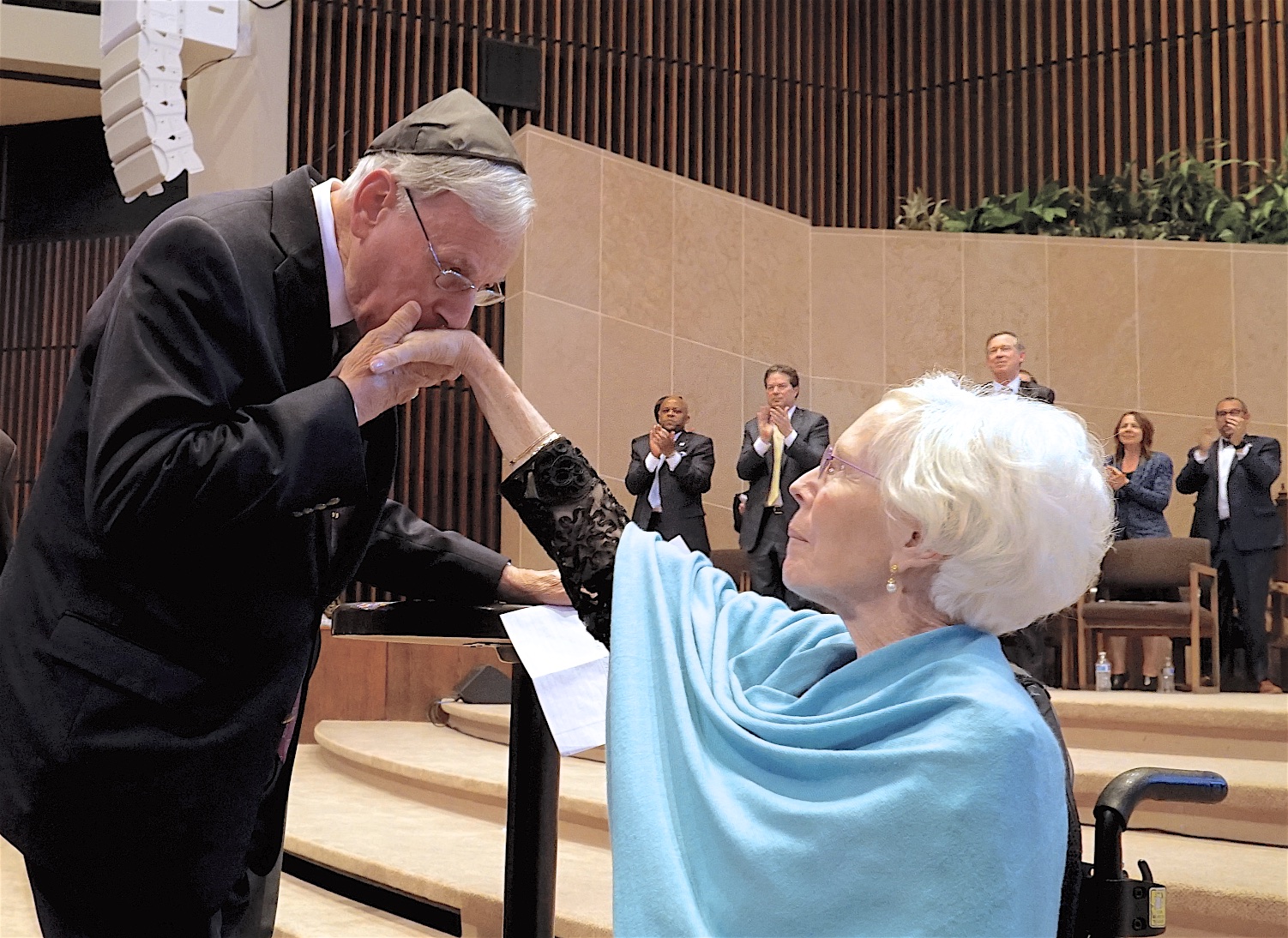 Although we are not able to join together in person this year for ADL's annual Governor's Holocaust Remembrance Program, we welcome you to join us online for this year's program on Thursday, April 28 at 5:30 by registering at https://support.ADL.org/GHRP2022. We are also fortunate to have video recordings of past programs that you can view today. These records of remarkable keynote presentations, as well as video footage of only the second presentation of the Righteous Among the Nations recognition ever in Colorado, are a testament to the importance of Holocaust remembrance and education. We hope you find them as meaningful and moving as we do.
2022: Keynote Speaker – Survivor Marion Goldstein
This year's program featured a panel discussion about the important work of the Claims Conference. The Conference on Jewish Material Claims Against Germany (Claims Conference), a nonprofit organization with offices in New York, Israel and Germany, secures material compensation for Holocaust survivors around the world. Jewish Family Service of Colorado is the disbursing organization for Colorado Holocaust survivors and their families of restitution funds from the Claims Conference. The panel will include Executive Vice President for the Claims Conference Greg Schneider, ADL Regional Director Scott Levin, JFS President and CEO Linda Foster and Colorado Holocaust Survivor Marion Goldstein, whose parents escaped from Germany to Shanghai, China, where Marion was born in 1940.
Read Marion's story here and watch the 2022 event here!
2021: Keynote Speaker – Holocaust Survivor Judith Altmann
Judy, who is 96 years old, was born in Jasina Czechoslovakia, which was invaded by the Nazis in 1939 when she was a teenager. In 1944, Judy was arrested and taken to Auschwitz. Out of 24 family members, only she and her niece and nephew survived. Judy survived two forced labor camps, despite a catastrophic injury, and survived the 150-mile "death march" that ended in the Bergen Belsen concentration camp. Sick with typhus, Judy was barely alive when she was liberated by the British Army in 1945. After living for a short time in Sweden, Judy immigrated to the United States in 1948.
Judy is a member of the Holocaust & Human Rights Education Speakers Bureau and is Vice President of the Holocaust Child Survivors of Connecticut. Read more about Judy's story here and watch the 2021 event here!
2020: Keynote Speaker – Holocaust Survivor Renée Fink
Born in the Netherlands in a seaside community near the Hague, Renée Fink was forced to go into hiding at the age of four. Provided with a safe haven by the van den Brinks, religious Catholics with eight children of their own, Renée was sheltered in the family home in the Dutch countryside until after the war ended, when she was eight. Renée's parents were tragically betrayed and murdered, but her grandmother survived the war.
Renée has spoken nationally and internationally to a wide variety of groups from students to educators to community groups, federal employees, and more. She has also been interviewed extensively on television and radio (most recently, on NPR's "The State of Things" in June 2019). Renée lives in Chapel Hill, North Carolina, and is a member of the Holocaust Speakers Bureau at the Center for Holocaust, Genocide, and Human Rights Education of North Carolina. Watch more about Renée's story here!
2019: Keynote Interview with Survivor Gene Klein and Second Generation Survivor Dr. Jill Klein
In the spring of 1944, when Gene Klein was 16 years old, he and his family were deported from their home in Hungary to the Auschwitz-Birkenau concentration camp in Poland. With an abundance of luck, a resilient mindset, and a powerful will to live, Gene managed to survive until his liberation by Soviet soldiers at the end of World War II. Gene's story is captured in We Got the Water: Tracing My Family's Path through Auschwitz, written by his daughter Dr. Jill Klein.
The program began with Rabbi Jeffrey Kaye, who delivered an invocation that included a memorial reflection honoring the victims of the Poway, CA synagogue shooting just days prior, and for which he was joined by all clergy present. Governor Jared Polis delivered a "Message to Colorado" in which he spoke about the meaning of Holocaust remembrance from his perspective as Colorado's first Jewish governor. ADL Regional Director Scott L. Levin delivered remarks in which he reflected on the tragedies of Pittsburgh, Christchurch, Poway and more as he shared that "everyone, no matter their religion, should be able to practice that religion free from fear and insecurity." Watch the 2019 event here!
2018: Keynote Speaker – Survivor Sidney Zoltak
Holocaust Survivor Sidney Zoltak survived the final fourteen months of the Holocaust hidden in shelters dug below the outbuildings on a farm in Poland. The final family that hid Zoltak and his parents was designated as "Righteous Among the Nations." Zoltak immigrated to Canada after the war.
Today, Sidney is the co-president of the Canadian Jewish Holocaust Survivors and Descendants and is a board member of the Conference on Jewish Material Claims Against Germany, working to provide financial assistance and to achieve reparations for Holocaust Survivors in Canada and throughout the world. Sidney also guides teens to Poland and Israel on the March of the Living. His story is recorded in the memoir My Silent Pledge.
2017: Keynote Speaker – Infant Survivor Hannah Berger Moran
Dr. Hana Berger Moran, an infant survivor of the Holocaust, was born in a slave labor camp weighing less than three pounds to a mother who weighed 70 pounds in her ninth month of pregnancy. Hana and her mother miraculously survived the death march to Mauthausen concentration camp where they were liberated by American soldiers. Hana's story is featured in the best-selling book Born Survivors by Wendy Holden.
A trained chemical engineer and pharmacologist, Dr. Moran's message focuses on the responsibility to give back to the community, including a mandate for health authorities worldwide to facilitate treatment to those in the most critical need. Watch the 2017 event here!
2016: Keynote Speaker – Holocaust Survivor Margit Meissner and Presentation of Righteous Among the Nations to the Family of Dr. Maria Kiss Madi
The 2016 program featured the presentation of the Righteous Among the Nations to the family of rescuer Dr. Maria Kiss Madi (beginning at approximately the 30 minute mark) and keynote remarks by Survivor Margit Meissner (beginning at approximately the 1 hour mark). Watch the 2016 event here!
Margit Meissner (OBM) traveled the world on behalf of the US Holocaust Memorial Museum and Women to Women International speaking about her remarkable escape from war-torn Europe, a career that took her all over the world including to the Nuremburg Trials, and her mission to shed light on modern-day genocide and the current refugee crisis. Ms. Meissner was also the author of the memoir Margit's Story.