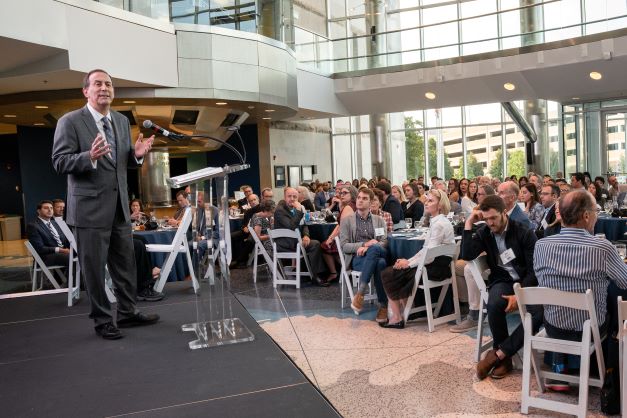 The ADL Mountain States Region was pleased to honor Julie Reiskin, Co-Executive Director of the Colorado Cross-Disability Coalition, and Colorado State Representative Dafna Michaelson Jenet at the 2022 Civil Rights Awards Reception on Aug. 24 at The Cable Center in Denver.
We were thrilled to host an occasion that brought together more than 250 community leaders and advocates to celebrate our honorees and to support ADL's work to protect and seek justice for marginalized members of society and our Colorado community.
In her remarks at the event, Rep. Dafna Michaelson Jenet said, "We are telling stories that there are people out there and they are fighting [to be equal]. And maybe if we keep telling those stories, one more person will want to fight…and maybe we will get to that day where we don't live in a world where hatred is commonplace. It takes the ADL and organizations like it to do just that."
Julie Reiskin commented, "ADL offers many opportunities to stamp out hate through activism, voter engagement, education, litigation, and giving us tools to disrupt hate. All of us benefit from this work, and all of us can participate."
Another highlight of the evening was the presentation of awards to the winners of the 2022 Summer Associate Research Program Memo Competition: Austin Hartley, Kristen Kennedy, Megan Rijo and Ashlynn Timmerman from Bryan Cave Leighton Paisner, and Shelby Pickar-Dennis and Hafsa Warsamee from Faegre Drinker Biddle & Reath. Kristin and Megan, along with Faegre Drinker pro bono manager Candace Whittaker attended the reception.  Learn more about the program here.
We thank our event sponsors, honorees and all the attendees for making the evening special. A full list of sponsors is available at www.adl.org/civilrights2022.
Mark your calendars now for the 2023 ADL Civil Rights Awards Reception on Sept. 13, 2023, at The Cable Center. We hope to see you there!