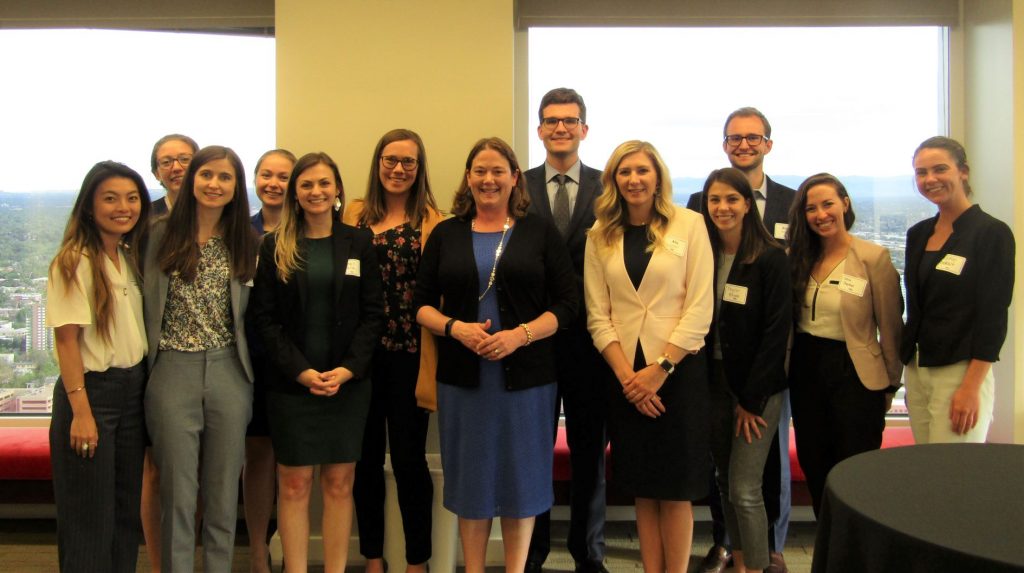 Colorado Supreme Court Justice Melissa Hart was the keynote speaker at the opening reception on June 4 for the 2019 ADL Mountain States Region's Summer Associate Research Program. Justice Hart shared the story of how she was selected by Governor Hickenlooper to join the CO Supreme Court in 2017. She also discussed what justice and access mean to her, and why we all need to work to achieve those ideals.
The reception was held at the law offices of Bryan Cave Leighton Paisner LLP in Denver, CO. ADL thanks the law firm for providing refreshments and a beautiful space to gather. ADL is grateful to Mountain States Board Members Erin Nave and Laura Perlov who serve as chairs of the Summer Associate Research Program.
Participants in the program provide ADL's regional and national staff with legal research on cutting-edge civil rights issues. The summer associates are exposed to ADL's mission and to the importance of pro bono work. The Mountain States Region is one of several ADL offices throughout the country involved in the annual program.
In her remarks, ADL Senior Associate Director Sue Parker Gerson thanked the participating summer associates and explained, "The work that you do this summer will further the goal of ADL – to secure justice and fair treatment to all – as we move into the future."
2019 marks the 12th year for the ADL Summer Associate Research Program in Denver. Twenty-five summer associates from nine prominent law firms are participating in this year's program.  Under the direction of a supervising attorney, each summer associate is researching an assigned topic and will provide a memorandum to ADL.  Topics being researched this summer include hate speech on social media, anti-boycotting laws, discrimination based on sexual orientation and more.
The following law firms have summer associates participating in this year's program:
Ballard Spahr
Brownstein Hyatt Farber & Schreck LLP
Bryan Cave Leighton Paisner LLP
Dentons US LLP
Dorsey & Whitney
Faegre Baker Daniels LLP
Hogan Lovells
Ireland Stapleton Pryor & Pascoe PC
Otten Johnson Robinson Neff & Ragonetti PC
For more information or to sign up to participate next summer, please call 303-830-7177 or email sparkergerson@adl.org.