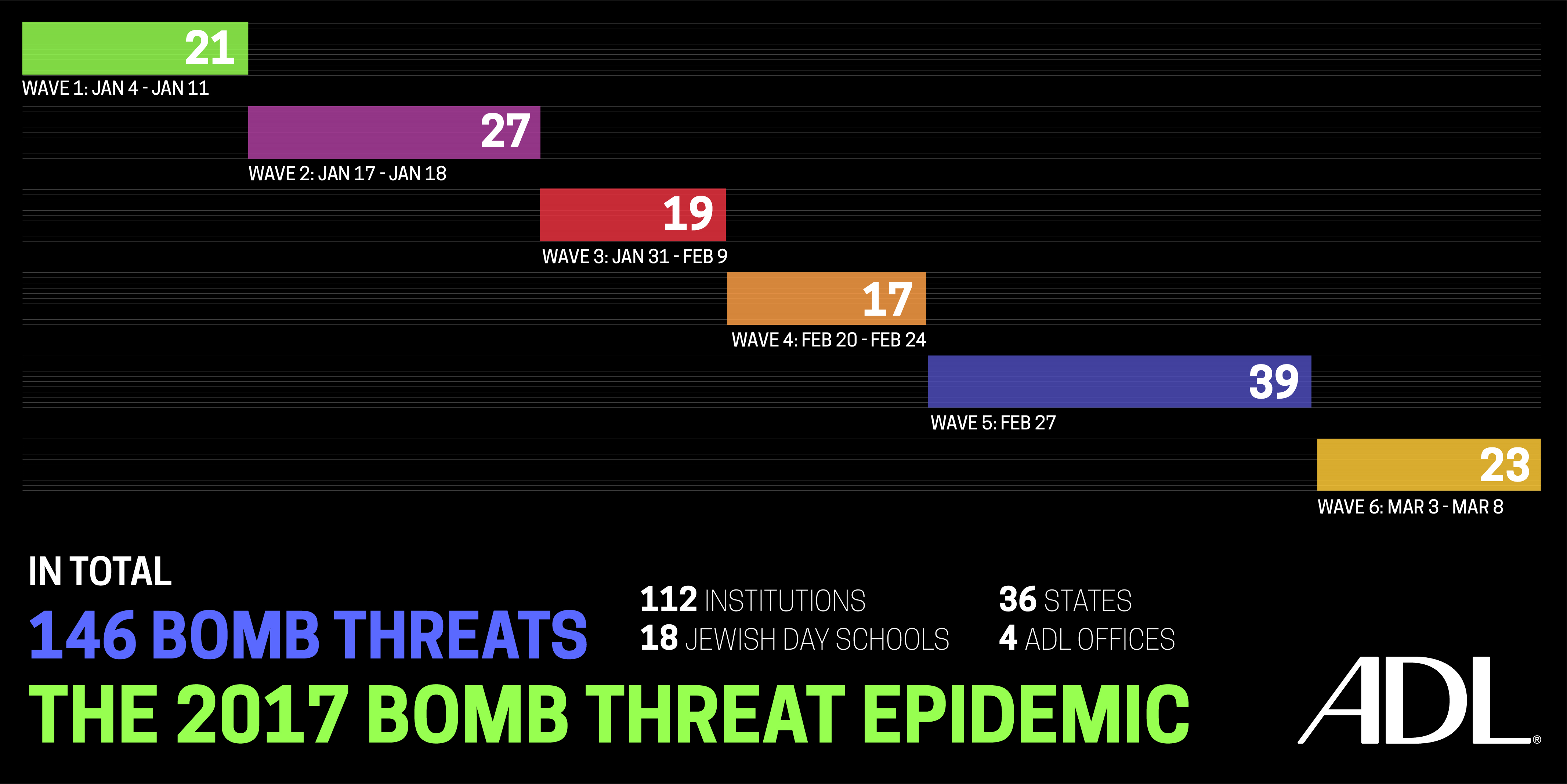 When anti-Semitism presents itself in our community, we stand against it. One threat is too many and, as we see threats sweeping the nation, we are left worried and disturbed. We cannot ignore the wildfire of hate we are experiencing. The Anti-Defamation League and our Jewish community will remain vigilant; our eyes and ears remain open and alert; and the ADL will remain the emergency line concerning anti-Semitic incidents within the community.
In the aftermath of multiple recent threats to Jewish community institutions nationwide, including our own Boulder JCC and ADL's offices in New York and elsewhere, the Anti-Defamation League was immediately called upon to use our voice and our influence to shine a light on hatred. ADL was also able to assist in determining the validity of the threats. The Anti-Defamation League's Center on Extremism exposes and reports on hate groups and other extremists who seek to harm perceived enemies and to undermine our democracy. This Center documents the groups and individuals whose ideologies and activities perpetuate hatred and extremism. The ADL Mountain States Regional office works continuously with law enforcement agencies to share knowledge, to determine "next steps" and to provide added security where needed. We will not allow hate to slide through the cracks.
Here are the latest numbers as of this morning of Jewish institutions targeted in the six waves of phone and email threats:
Total bomb threats: 145 in 36 states and 3 Canadian provinces.
Total number of institutions targeted: 112 (This includes institutions that received more than one threat).
Total number of Jewish day schools that received threats: 18
Total number of ADL offices that received bomb threats: 4
We MUST work together to fight against what we are seeing. We urge you to report anything you see or hear in your neighborhoods or around the city to the ADL Mountain States Regional office at (303) 830-7177.
We will not be frightened. We will not be deterred. We will not be silenced.
In response to the threats, please consider the following action steps:
Review the Bomb Threat Guidance provided by the Federal Bureau of Investigation and U.S. Department of Homeland Security;
Refer to ADL's list of 18 Best Practices for Jewish Institutional Security. These suggestions assist Jewish institutions in creating welcoming environments while keeping their institutions safe.
ADL has a wide array of educational resources for families and educators to utilize. Here is a list of materials to teach our children about challenging and responding to anti-Semitism and hate:
"Challenging Anti-Semitism: Debunking Myths & Responding with Facts"
"Empowering Young People in the Aftermath of Hate"
TOGETHER WE ARE STRONGER!
We need your help to protect and defend the ADL and the work we do to stand up to anti-Semitism and bigotry, to advocate for civil rights, to educate law enforcement and students to combat bias and to build inclusive communities.
Please stay vigilant and consider a gift to ADL.
To give: Click Here
Sincerely,
Jim Kurtz-Phelan, Regional Board Chair 
Scott L. Levin, Regional Director
The Anti-Defamation League, founded in 1913, is the world's leading organization fighting anti-Semitism through programs and services that counteract hatred, prejudice and bigotry. Follow us on Facebook and Twitter @ADLdenver.