ADL's Student Art Contest for NPFH Schools
NO PLACE FOR HATE® STUDENT ART CONTEST
Congratulations to our 2020-2021 Student Art Contest WINNERS!!!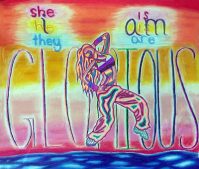 Even during a year of change and the unknown, art remains such a critical part of our expression. ADL's No Place for Hate Student Art Contest was a great success, with over 140 pieces of artwork submitted, from schools in Colorado and New Mexico.  We received 2D pieces that included a multimedia approach and each was unique with descriptions that provided a depth of meaning and understanding by each student. Congratulations to all the artists, educators and families for their creativity and thoughtfulness in responding to our prompt:
We Build Community?

We Find Common Ground?

Diversity is a Strength?

We Take Action AgainstHate?

We Are Different, Together
Check out ALL of the winning student art here and the descriptions of their work: 2020-2021 NPFH Student Art Winners
Twelve judges had the difficult task to discern which pieces stood out based on well thought out pieces that clearly address the topic; depth of feeling about the subject; originality, universality and imagination; and expression and style.  The purpose of this contest is to provide an opportunity for elementary, middle and high school students to submit original 2D artwork to convey their vision of a world without prejudice through art.  The aim is to showcase artists that will inspire ideas and renewed energy for what we can do to challenge bullying behavior, prejudice and discrimination.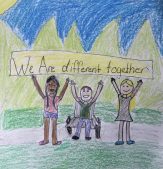 Winners were chosen in four age categories:
Grades K-2 (lower elementary)
Grades 3-5 (upper elementary)
Grades 6-8 (middle school)
Grades  9-12 (high school)
We can't wait til next year! Keep an eye out and keep making art!
 Deadline for 2021-2022- TBD
To view past year's winners, visit the links below:
Check out ADL's 2019-2020 Art Contest Winners.
Check out ADL's 2018-2019 Student Art Contest Winners