ADL's Student Art Contest for NPFH Schools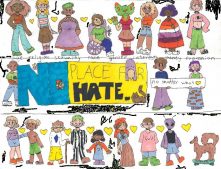 NO PLACE FOR HATE® STUDENT ART CONTEST

ADL is proud to present its 2019-2020 No Place For Hate – Student Art Contest Winners – check out their artwork at this link: 2019-2020 Art Contest Winners. Due to COVID-19, we made the difficult decision to cancel our May 1, 2020 No Place For Hate Celebration Breakfast, which is where these wonderful artists would have been recognized, pictures taken and praised by more than 400 guests. Here are a few of our winners work: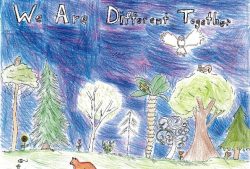 This visual arts student contest is ONLY open to our current and active No Place for Hate schools and their students.  The purpose of this contest is to provide an opportunity for elementary, middle and high school students to submit original 2D artwork to convey their vision of a world without prejudice through art by responding to ONE of the themes below:
WHAT DOES IT LOOK LIKE WHEN….
We Build Community?

We Find Common Ground?

Diversity is a Strength?

We Take Action Against Hate?

We Are Different, Together
The goal is to engage all students to create ART which demonstrates the process of moving from prejudice to action towards justice today. The aim is to showcase artists that will inspire ideas and renewed energy for what we can do to challenge bullying behavior, prejudice and discrimination.
Winners will be chosen in four age categories:
Grades K-2 (lower elementary)
Grades 3-5 (upper elementary)
Grades 6-8 (middle school)
Grades  9-12 (high school)
Deadline for 2020-2021- TBD 
For more detailed information about the rules and guidelines, no matter which theme the artist chooses, see the flier below.
Click here to download the 2019-20 Art Contest Guidelines
Click here to download Art Contest Entry Form (Eng) or Entry Form (Spanish)
For Middle and High School students, we encourage you to watch the video Imagine A World Without Hate to prompt your creative ideas for your artwork.  For educators, check out the Educator's Guide, and this website for biographies of those featured in the video:  https://www.adl.org/imagine-a-world-without-hate  
CHECK OUT – CONTEST WINNER RECOGNITION:
Our 2018-19 art contest was a great success with remarkable art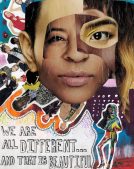 submissions. Thank you for all the artists, educators and families that participated in 2018-2019 This year's art was spectacular and can been seen at the link: 2018-2019 Student Art Contest Winners
To view past year's winners, visit the links below: