ADL's Student Art Contest for NPFH Schools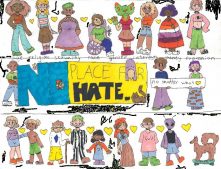 NO PLACE FOR HATE® STUDENT ART CONTEST
IS BACK for 2020-2021!!
ADL is excited to launch our 2D visual arts student contest for our active No Place for Hate schools for the 2020-2021 school year. We know schools, students and families are teaching and learning in a variety of ways due to COVID-19, and we are excited to provide an opportunity to express themselves in a positive way through this challenging time. The deadline for submissions is January 22, 2021 and NEW this year is the ability to submit electronically! Check out these new guidelines:  Art Contest Guidelines and submission guidelines below!
This visual arts student contest is ONLY open to our current and active No Place for Hate schools and their students.  The purpose of this contest is to provide an opportunity for elementary, middle and high school students to submit original 2D artwork to convey their vision of a world without prejudice through art by responding to ONE of the themes below:
WHAT DOES IT LOOK LIKE WHEN….
We Build Community?

We Find Common Ground?

Diversity is a Strength?

We Take Action Against Hate?

We Are Different, Together
The goal is to engage all students to create ART which demonstrates the process of moving from prejudice to action towards justice today. The aim is to showcase artists that will inspire ideas and renewed energy for what we can do to challenge bullying behavior, prejudice and discrimination.
Winners will be chosen in four age categories:
Grades K-2 (lower elementary)
Grades 3-5 (upper elementary)
Grades 6-8 (middle school)
Grades  9-12 (high school)
Deadline for 2020-2021- January 22, 2021 
Check out the NEW art contest guidelines, especially the new ability to submit work electronically. No matter which theme the artist chooses, see the flier and entry form below.
Click here to download the NEW Art Contest Guidelines (ENG) or Art Contest Guidelines (ESP)
Click here to download Art Contest Entry Form (ENG) or Art Contest Entry Form (ESP)
NEW ONLINE SUBMISSION Options – The entire entry process can now be done ONLINE! We hope this online process will help in reaching out to hybrid and remote students and staff (even "in-person" folx can use this method). Simply share the following link with students, staff, administrators, and families: https://form.jotform.com/202525806462049. The form does have a language selection menu on the top-right for folx who would like to view the online form in Spanish.
For Middle and High School students, we encourage you to watch the video Imagine A World Without Hate to prompt your creative ideas for your artwork.  For educators, check out the Educator's Guide, and this website for biographies of those featured in the video:  https://www.adl.org/imagine-a-world-without-hate  
CHECK OUT – 2019-2020 CONTEST WINNER RECOGNITION: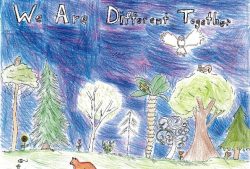 Our 2019-2020 art contest was a great success with remarkable art submissions. Thank you for all the artists, educators and families that participated in 2019-20. This past year's art was spectacular and can been seen at the link: 2019-2020 Art Contest Winners.
To view past year's winners, visit the links below:
Check out ADL's 2018-2019 Student Art Contest Winners