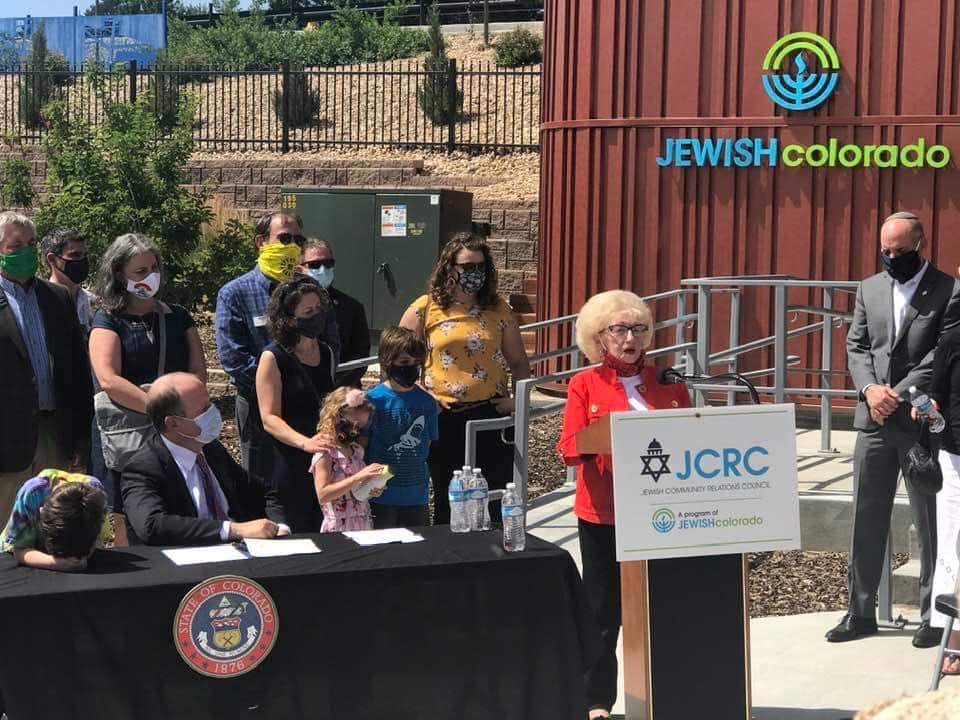 Despite a shorter than usual legislative session and one interrupted by the novel coronavirus pandemic, the Colorado General Assembly passed critical legislation to protect the civil rights of all Coloradans and to counter an increase of hate in the state.
One of the session's greatest accomplishments was the passage of a bill that requires Holocaust and genocide education in public schools. ADL worked with an extensive network of coalition partners, including the Jewish Community Relations Council, Coalition Against Global Genocide and the Armenian community of Colorado to pass House bill 1336 – Holocaust and Genocide Studies in Public Schools. The bill was championed by Representatives Dafna Michaelson Jenet and Emily Sirota and Senators Steve Fenberg and Dennis Hisey. Watch the signing ceremony here.
In the final days of the session, the Colorado General Assembly passed a comprehensive police reform bill. Senate Bill 217, signed into law by Governor Jared Polis on June 19, bans chokeholds and carotid holds, requires law enforcement to document each time they unholster their weapon, and changes the way officers can use deadly force and how that use of force is investigated. It also requires every law enforcement agency in Colorado to provide their officers with body cameras and allows officers to be sued in their individual capacity. The ADL Mountain States Region's Civil Rights Committee voted unanimously to support this critical legislation.
ADL worked with lawmakers and community partners to pass legislation that requires homeowner's associations (HOAs) to permit the display of a mezuzah on an exterior door. ADL provided model legislation after community reports that some HOAs were prohibiting the display of a mezuzah.
ADL also worked with coalition partners to support the Colorado CROWN Act. The measure prohibits discrimination in education, employment and public accommodations based on an individual's hairstyle, including styles often associated with an individual's race.
In addition, ADL:
supported a bill that prohibits the use of the gay and transgender panic defense in criminal proceedings;
supported a bill that provides critical protection from civil arrest for individuals accessing Colorado's judicial system;
opposed a slate of six anti-LGBTQ bills introduced in the Colorado legislature;
opposed several bills that would have prohibited abortion in Colorado and severely restricted women's access to comprehensive reproductive health care.