ADL's student essay contest: A Tribute to Moral Courage: Standing Up Against Injustice
CONGRATULATIONS to our 2022 Student Essay Winners
 With almost 200 essays submitted from Colorado and New Mexico, our fifteen judges had their work cut out for them. They read essays multiple times to find these six that rose to the top. Students found inspiration in so many ordinary people (family members, historical figures and current leaders) that chose extraordinary actions to demonstrate their moral courage, whether through small individual actions or building a movement to make a difference. ADL is grateful to a generous anonymous sponsor to have the ability to offer this opportunity to educators, families and students to keep searching for inspiration and finding those that motivate each of us to keep fighting the good fight! To read all the essays visit: Finding Inspiration in 2022 Essay Winners
2022 Essay Winners will be presented recognized at ADL's virtual Governor's Holocaust Remembrance Program held on April 28, 2022 at 5:30pm MST. Register here: https://support.adl.org/GHRP2022 to honor survivors, and to Never Forget!
Essay Contest 2023 Deadlines TBD
This inspiring essay contest motivates students, educators and readers alike to pursue social change, motivates many to remember the past and strive for a better future. Share with your students, your children, your grandkids, your youth group to participate in this contest to encourage and grow student leaders! Together, let's  shine a light on those past and present individuals who have shared their moral courage to better our world for all.
This essay contest uses the Holocaust as a backdrop, 7th – 12th grade students are encouraged to recognize those individuals throughout history who took a strong stand on a specific issue based on their personal beliefs or convictions, regardless of the danger or threat to their personal safety. Not only will students write about how that person's moral courage has an impact on the world, but also and perhaps most importantly, how those actions have influenced their own lives today.
Student writers must be Colorado, New Mexico or Wyoming students in grades 7-12. Monetary awards will be granted to the top three winners in two divisions: Division 1 – 7-9th grade and Division II – 10-12th grades.  
Essay Contest Rules & Submission Guidelines:
For full essay contest details, click here: 2022 Essay Contest FULL Rules & Guidelines
Download the forms here: Student Essay Application Form  & Student Essay Reflection Sheet
Mailed Brochure (print double sided) here: 2022 Essay Pamphlet
Submissions can be submitted two ways –
Snail mail – Instructions are above on pamphlet & full rules and guidelines. Use these links for the essay application form & reflection sheet.
Electronically  – Submit all information on the following link and be prepared to complete application form & reflection sheet online. Strong suggestion – have answers to application form & reflection sheet prepared on a separate document, which will allow for easy cut and paste to the form. Submit your essay here: https://form.jotform.com/213134218161141 
 NOTE to TEACHERS: Encourage your students to select someone that connects with their personal stories and backgrounds. If used as a classroom assignment, this essay meets several Colorado, New Mexico and Wyoming State Standards in Reading, Writing and Social Studies:
RH 11-12.7, requiring students to Integrate and evaluate multiple sources of information presented in diverse formats and media in order to address a question or solve a problem.
RH 9-10.9, requiring students to compare and contrast treatments of the same topic in several primary and secondary sources.
RH 6-8.10, requiring students to be able to read and comprehend history/social studies texts, independently and proficiently.
W.7, Conduct short as well as more sustained research projects based on focused questions, demonstrating understanding of the subject under investigation.
Check out the inspired work by our past winners and encourage your students to dive in! Follow the links below:
Follow this link to read 2017 Winning Essays
Follow this link to read essays: 2016 Winning Essays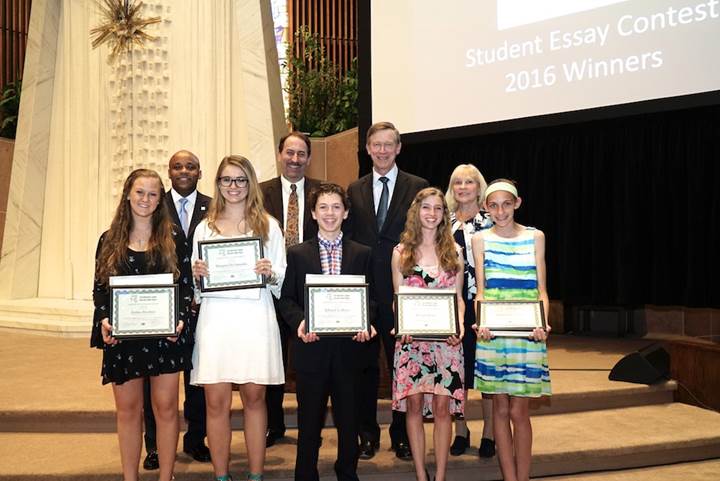 Follow this link to read essays: 2015 Winning Essays