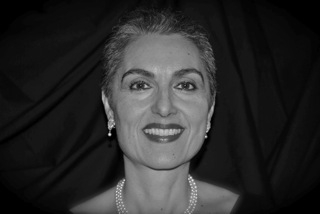 ADL Mountain States Region Emeritus Board member, artist and philanthropist Laura Merage shares why her own immigrant story has motivated her to support ADL's mission.
How did you first become involved in ADL? How are you involved now?
When we moved to Colorado 23 years ago, my husband and I were introduced to the Loup family and they were very instrumental in introducing us to the Jewish community. I had mentioned I wanted to get involved in organizations here in Colorado as a volunteer and they introduced us to ADL. I became a board member and I was mostly involved in the educational mission throughout the years, although I don't think there are any committees I haven't been involved with. ADL spoke to me very much since I was born in Iran. Growing up, there were times that I felt that I was an outsider and not accepted, and so on a personal level, I really care for the mission of the ADL.
What do you do in your professional life?
I'm an artist and philanthropist. I started two nonprofit art organizations. One is Red Line which is a public nonprofit art center that celebrated its tenth anniversary last year.  Another is Black Cube which is a nomadic art museum that brings art out to public areas and supports various artists throughout the year. Black Cube is in its third year and doing very well. Both initiatives are based in Denver.
The David and Laura Merage Family Foundation has been in existence for 20 years. The mission of the foundation is two-pronged. We have activities that we do in Israel and there our focus is two things: populating the Negev and assisting Iranian immigrants to help them get to Israel, give them support and help them integrate into Israeli Society. In the US, we focus on early childhood education, Jewish life and art. [ADL has been the beneficiary of generous gifts from the David and Laura Merage Family Foundation.]
When you were a kid, what did you want to be when you grew up?
I had no idea! I was one of those kids that didn't give it much thought. When I was in high school I became interested in the arts and by the time I entered college I knew I wanted to pursue a career in fine art. I got my bachelor's degree in fine arts at the University of Southern California and my MA in art at New York University.
Where were you born? From where do your ancestors hail?
I was born in Iran. My ancestors had been in Iran for thousands of years. They went to Iran after the destruction of the First Temple in Jerusalem when Cyrus the Great opened the doors and accepted the Jews into Persia. The Jews of Iran are neither Ashkenazi or Sephardi. They have an ancient Israeli origin from 2500 years ago.  I left Iran when I was 15 years old, before the Revolution. I came by myself to the US to go to school. At that time my two older brothers were in northern California – one in high school and one in college – and I joined them. My father was accompanying me, and he took one look at San Francisco in the early 70s and said, "not for my daughter!" Within weeks he moved us down to Los Angeles where I went to both high school and college. I got married there, had two kids there, and then we moved to Colorado. My husband was planning to move and expand his business and we started looking for where to go.  We knew we wanted to be somewhere in the central US to make it easier for the business and for travel. Having a Jewish community was important to us. We did some research, came back and forth to Denver, really liked it and decided to move here. He owned a company called Chef America and he and his brother created Hot Pockets. They sold the company to Nestle. So, the business sold, but we stayed.
What's your favorite holiday?
My favorite is the Persian New Year – the only new year that is not religiously based. It's based on seasons and the spring is when the new year begins. In fact, at the precise moment that the spring solstice begins, that's the moment that the Persian new year begins. Even if it's in the middle of the night, that's when we celebrate it. All Persians, no matter what religion, celebrate the holiday together. It's a beautiful holiday. There's a table with items that represent spring such as greens, tulips (one of the first things that blossoms in Iran after winter), hyacinth and painted eggs, which Christians take from the Persians as a symbol of new beginnings. We put gold coins or fake gold coins on the table as a symbol of prosperity, a mirror as a symbol of truth and honesty, a book of poetry as a symbol of knowledge, and a bowl with goldfish as a symbol of spring and new beginnings. We set up the table for seven days and seven nights and entertain every day. One of the main traditional Persian dishes includes green herbed rice with white fish. In Iran we go to visit family for 13 days.  On the thirteenth day we have a picnic outside and that's the end of the festivity.
What's your favorite food?
I'm a foodie! There are so many! My favorite food that I can't resist is a Persian dish that translated literally means the bottom of the pot. Tahdig refers to the fried rice at the bottom of the pot. Under the rice we put oil, so it crisps up and we get fried rice. It's very delicious and I cannot resist it.
What are you reading?
I am reading Sapiens by Yuval Noah Harari. It's a terrific book about homo-sapiens and the origin of the species, how humans came to be. I'm enjoying it a lot. Because that's more like a textbook, I'm also reading The Grass Dancer, a novel by Susan Power.
What's a special place you have visited?
Last month we went to Japan and for me that was at the top of my travel list. It was incredible. The colors and textures of the fall were just breathtaking. We were there for two weeks.
What's one thing every person should know or experience?
Having a grandchild! And dancing like a kid. With your grandchild.
What teacher or class stands out to you the most in your education and why?
Two art teachers – one in Iran and one in high school in Los Angeles – really had an impact on me, as did my piano teacher in Iran. They were wonderful. There was something about their teaching that stuck with me. They were all very kind, nonjudgmental and supportive. They taught without reprimanding or putting down, and so it was a pleasure for me to learn.
What are you passionate about personally? What can't you stop talking about?
Art. It is a way for me to express myself, a way that I feel that we can heal our world and heal those who need healing. It's a way to bring us together. Also, it's one of the best ways for our kids to learn both other cultures and core subjects. Having art and music to engage the brain to learn math, sciences, and language is a proven formula, a beautiful way to learn. It should be the first thing we are taught in school!
Where can we find you when you're not working?
Sitting by a fireplace reading a good book.
What would be impossible for you to give up?
My family.
If you had to teach something, what would you teach?
Art!
Tell me a story that immediately pops into your mind that was a defining or significant moment for you.
I had a moment at the age of 35 when suddenly I became an adult. A lot of my decisions on a weekly basis are gauged through the lens of that moment when I suddenly thought that truly I have become an adult. I have no excuses. What I experience in life is my own decision.
Why do you choose to make a financial investment in ADL?
In today's world the answer is unfortunately more obvious than ever. In a divided world of people from different backgrounds and religions thinking they are better than others, and sometimes using violence to prove their point, there is no time better than this for ADL to be active and to stop this horrible anti-Semitism and bigotry and fear-mongering that is growing in our world. Now more than ever we need ADL and what ADL stands for.
Complete this sentence: For me, the ADL is …
… assurance that my children and grandchildren will be able to live in a country and in a world that is free of fear and they can be who they choose to be without consequences.