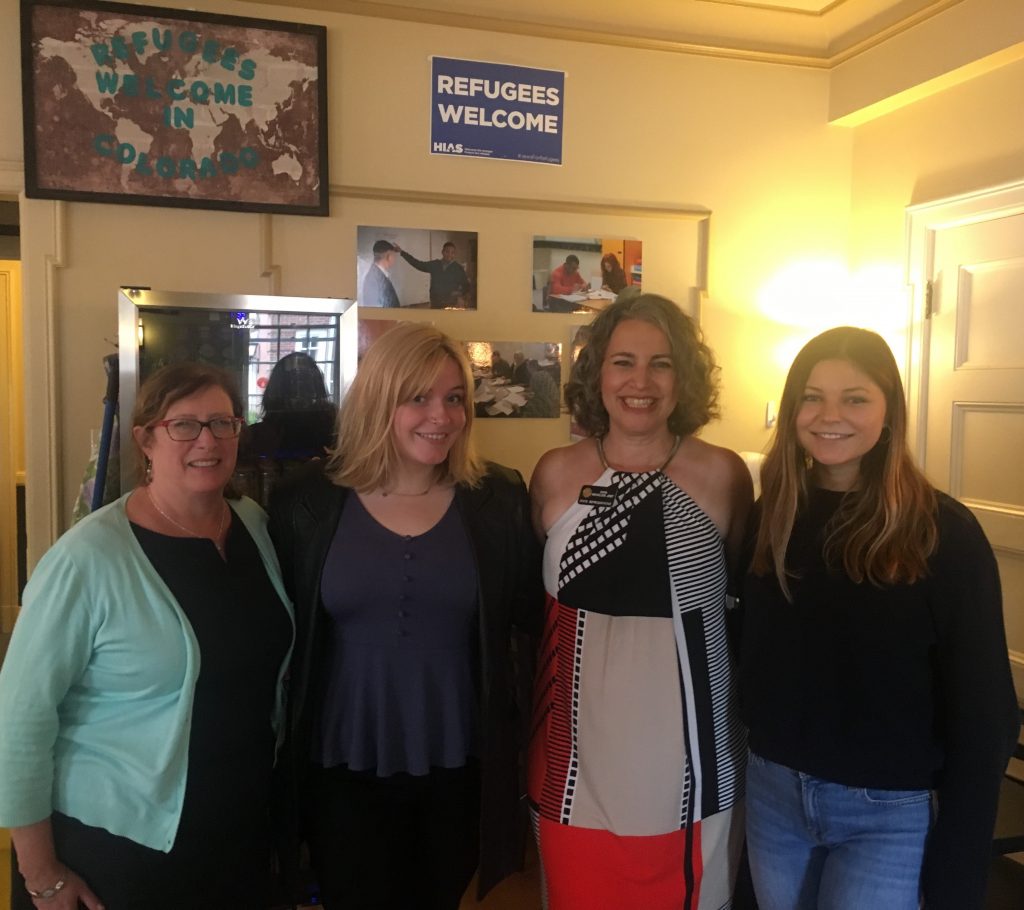 Earlier this summer, ADL Mountain States summer interns Shay Goldberg and Cameron Oberfeld had the opportunity to sit down with Representative Dafna Michaelson Jenet of Colorado House District 30. The conversation spanned Rep. Michaelson Jenet's time in office, some of her legislative priorities and views, and her close and long-standing relationship with ADL.
ADL: Why did you seek public office?
DMJ: After spending over 20 years in the non-profit arena, I decided to enter the political sector to alter laws and policies that had affected my family, including youth mental health and special education. I live by the motto "I will not complain about a problem without working towards a solution," and so becoming a representative was the logical next step in working towards solving the problems I saw in my community.  Originally, I had planned to run for city council in Commerce City, but was convinced to run for the State House, where I have now served for three years.
ADL: What are the specific goals of the new Juvenile Justice Reform Committee, which you pioneered?
DMJ: We need to create and implement more diversion programs, which are designed to keep children out of the system entirely, rather than entering them into a detrimental cycle that leads to incarceration. I can't stress enough the importance of preventative measures in working with young people. Ideally, I'd like to see the presence of one social worker for every 100 students. Currently, no schools report having even one social worker for every 250 students, which is the recommended minimum ratio given by the National Association of Social Workers, and so ultimately, we went with that ratio in our bill, Kindergarten Through Fifth Grade Social and Emotional Health Act, HB19-1017, that passed and was signed into law.
ADL: In your opinion, what is the current state of Colorado's healthcare system and what are you doing to improve it?  
DMJ: I am currently seeking to pass a bill which will ensure all individuals have the option of an annual mental wellness screening covered by insurance. Most insurance companies cover an annual physical wellness screening, and mental health is no less important.  I'm also working with healthcare systems to create transparency in labeling on medication. This more detailed labeling will inform Coloradans about where their money is going (e.g. research and development) and for what exactly they are paying.
ADL: How do you deal with partisan issues? How have you successfully managed to work across the aisle? 
DMJ: I work really hard to listen to opposing arguments and work hard at educating both allies and opponents in order to come to decisions.  As chair of the School Safety Committee, I work with an equal number of Democrats and Republicans, as the committee has no majority. This means that rather than focusing on the extreme ends of each side's perspective, we work together to compromise and find a sturdy middle ground. I believe that people mainly become hyperpartisan when you put (them) in front of a microphone and camera. Most people do want to work together.
ADL: How have you been involved in ADL previously, and how are you involved now? 
DMJ: I have been involved in ADL for many years, including graduating from the Robert B. Sturm Mountain States Leadership Fellows Program in 2014. Not a week goes by that I don't find myself seeking expert advice from ADL on issues ranging from anti-Semitism to discrimination and civil rights. I'm so lucky to have Jeremy Shaver (ADL Senior Associate Regional Director) on speed dial for any issues that may come up. My relationship with ADL remains an important resource. I can always come to ADL.
ADL: What is your source of inspiration?  
DMJ: One of my favorite Jewish teachings is from the tractate Pirkei Avot (Ethics of the Fathers) and it is intrinsic to my work. I live by the maxim that "You are not obligated to complete the work, but neither are you free to desist from it (Ethics of the Fathers 2:21)." This drives me to persist through any setbacks that may occur in the work. I might not be here when the work is done, but at least I started it.
What's next for Representative Dafna Michaelson Jenet? For now, she plans on going forward with her hard work in the Colorado State House. "Politics is all about windows," she says. "You never know when one opens."