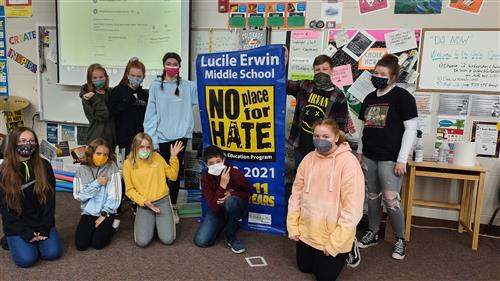 The ADL Mountain States Region's 2021-22 No Place for Hate program is in full swing, with 70+ schools working towards creating campuses that are No Place for Hate. None of this important work recognizing and challenging bias and hate could happen without dedicated educators guiding the work of empowered students to create positive, safe and welcoming schools.
One such educator is Ms. Julinda Dixon at Lucile Erwin Middle School (LEMS) in Loveland, Colorado. LEMS is currently working on their No Place for Hate designation for the 12th year in a row and Ms. Dixon has been the No Place for Hate Coordinator at LEMS for five years. She graciously answered a few of our questions so our readers can learn directly from Ms. Dixon about No Place for Hate and the amazing work that continues at Lucile Erwin Middle School.
ADL: How has No Place for Hate impacted your school?
Julinda Dixon: No Place for Hate has opened a dialogue at our school to allow students, staff and parents to actually talk to each other about what really happens in our building. Many of our activities include discussion and brainstorming in small groups. Staff and students can collaborate about what is happening and the feelings and emotions that are present at our school.
Our dialogue group provides concepts to ponder, brainstorming topics and conversation starters around the specific activities we plan. Participants have the freedom to express themselves through art, music, poetry, drama or any other manner they choose. This flexibility allows students to reflect and demonstrate an understanding of the attributes for an ideal "no place for hate" on our campus. Through our group's planned activities and catchy memes on our school TV's and morning announcements, we encourage students to consider new ways of thinking, meet new friends and learn empathy.
Our school and district are committed to improving climate and culture, fostering a thorough understanding of differences, building healthy relationships and providing for the social and emotional needs of our stakeholders. No Place for Hate is one of the best avenues I know to provide all this and more for everyone connected with our school.
ADL: What do you think has been the biggest challenge in making your school No Place for Hate? How have you overcome that?
JD: In my observation, the lack of "instant gratification" in knowing that EVERY student, parent and staff member "gets it" with regard to the values of No Place for Hate is a large frustration. Our group is so grateful for the significant number of past and current administrator, staff and parent supporters at our school. It is foremost in our minds that we could not accomplish our goals and facilitate activities without the amazing folks who help in so many meaningful ways during the year. I cannot put into words how much they are appreciated.
However, there are always outliers who decline to fully participate. This makes it more challenging for us to reach everyone in an impactful way. In response, our group is ALWAYS working toward helping all parents, staff and students in our community feel included and choose to actively be a part of our mission and activities.
Bringing change to a large community of adults and students is very challenging, but even small victories make it all worthwhile. Our group offers as many rewards as we can to encourage participants and promote the mission of No Place for Hate. When we see or hear positive results, our group loves to call them out publicly and make a big deal of recognizing individuals' inclusion practices, anti-bullying and allyship behaviors and any other demonstrations of the No Place for Hate mission.
ADL: What advice would you give to someone who is considering joining the No Place for Hate movement?
JD: Do not wait. Do it! You will find so many talented, caring, giving and inclusive kids who want to join this group. It only takes a few to make a solid impact on a school/community.
2021-22 will be our school's 12th year to participate in No Place for Hate. I was fortunate enough to have a great mentor who shared all the previous information and activities our school had already accomplished. There are many examples for guidance and ideas available through ADL's No Place for Hate handbooks as well. Have faith that your students will be the leaders of this group with adults there to facilitate. Listen to them and use their ideas. You'll be amazed what kids can do when they have the chance to lead! Wouldn't we all like to live in a better world? No Place for Hate helps teach us all how to make that more of a reality.
There's still time to join the No Place for Hate movement! For more information and to register your school for the 2021-22 academic year, please visit www.adl.org/mountainstates/noplaceforhate.