Is your school ready to be a No Place for Hate school?
REGISTRATION for 2019-2020 school will close soon. Only a few spots remain!!
The school year is well underway and our 2019-2020 NPFH Partner School List has grown to include a school in New Mexico!!! Is your school registered for this year? There isn't much time remaining to get involved and only a few spots are open. Sixty one schools have made the commitment to rally their school, empower students and work towards creating a positive, safe and inclusive school culture. Check out who has made that commitment, at this link: 2019-2020 NPFH Schools
We had very successful 2018-2019 school year with 56 schools designated No Place for Hate on April 12, 2019 at the Arvada Center for the Arts & Humanities.  Check out our school partner list: 2018-19 NPFH Partner school list
Are you interested in learning more about ADL's No Place for Hate program for the 2019-2020 school year, or interested in letting your principal or counselors know about No Place for Hate? Pass along these links below and share with your school staff & administrators:
ADL has learned that promoting sustainable, positive change in school climate is a continual, long-term process rather than a final destination. ADL's No Place for Hate Initiative is a school climate improvement framework that provides preK-12 schools with an organizing framework for combating bias, bullying and hatred, which can lead to long-term solutions to foster and maintain a positive climate. No Place for Hate schools receive their designation in the following ways:
Building inclusive and safe communities in which respect is the goal and where all students can thrive.
Empowering students, faculty, administration and family members to take a stand against hate and bullying by incorporating new and existing programs under one powerful message.
Sending a clear, unified message that all students have a place where they belong.
The most successful No Place for Hate schools make it visible, create a community language, incorporate elements within their curriculum and weave their message of respect into the fabric of daily school life.
We were proud to designate 56 schools as No Place for Hate for the 2018-2019  school year on April 12, 2019.  ADL celebrated with students, educators, community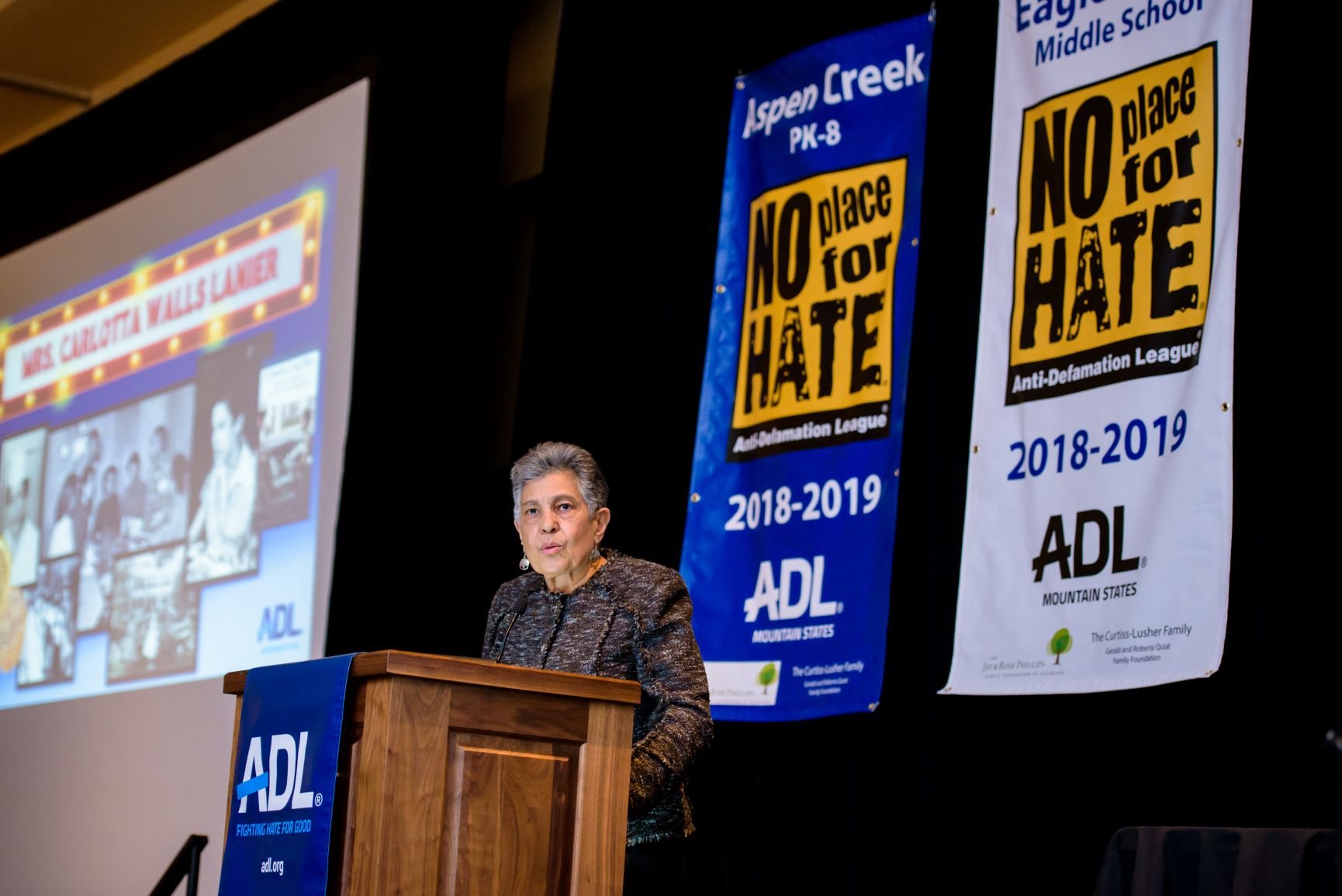 partners, donors and more at Arvada Center for the Arts & Humanities! Excellence Awards were given to Ann Heiman Elementary School, Broomfield Heights Middle School and Eaglecrest High School. ADL's student art contest winners were also recognized, see their remarkable and creative artwork here: 2018-19 Student Art Contest Winners.
Mrs. Carlotta Walls Lanier, the youngest member of the Little Rock Nine and Congressional Medal of Honor recipient, provided an inspiring and moving keynote address, reminding everyone that the important work of equity and inclusion must happen every day, in each classroom and in each neighborhood.
Only with ADL's generous sponsors are we able to continue to work with educators, students and families to ensure school communities are safe, positive and inclusive environments for all.  Thank you to —  The Jay and Rose Phillips Family Foundation of Colorado, The Curtiss-Lusher Family and The Gerald and Roberta Quiat Family Foundation — and our supporters —  JEWISHColorado, The Melvin & Elaine Wolf Foundation, Hank & Cheryl Saipe; as well as many other generous supporters.