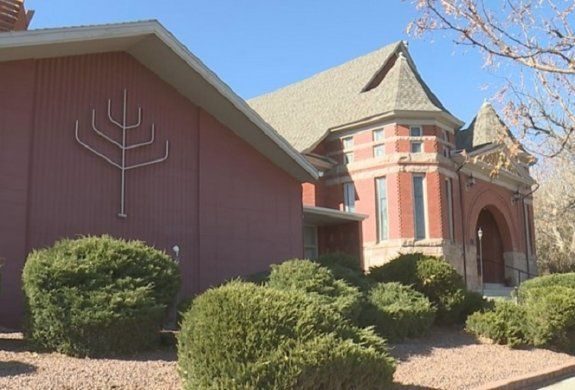 November marks one year since the FBI arrested Richard Holzer for plotting to bomb Temple Emanuel Synagogue in Pueblo, CO. ADL welcomed last month's announcement by the U.S. Department of Justice that Holzer had pled guilty to federal hate crime and other charges. ADL Mountain States Regional Director Scott Levin thanked the law enforcement agencies involved in the arrest and prosecution of the case and recognized the leaders and members of Temple Emanuel Synagogue for their strength and resilience in a statement released on October 15, 2020.
A congregation of 35 families, Temple Emanuel Pueblo was founded in 1900 and has been in continuous use for over 100 years. ADL recently spoke with Temple Board President Michael Atlas-Acuña and Rabbi Emerita Birdie Becker about the events of last year, what has transpired since and the importance of community.
ADL: How did it feel to know that you and your congregation had been targeted for no other reason than you were Jews?
Rabbi Birdie Becker: With rising antisemitism in the United States and around the world, it was not a surprise to be targeted. I have been encountering antisemitism since elementary school when I was first called a kike. However, my initial reaction was one of incredulity that it occurred in Pueblo with such a small Jewish population and where, in my 20 years, there had been no incidents. I felt we were lucky that no one was injured and nothing was damaged. I was grateful that the bombing was thwarted. I was also very grateful for the work of the career professionals at the FBI and local police.
The congregants had a variety of reactions from angry to defensive to scared. Being at the Temple alone became more uncomfortable for the few who found themselves in that situation. I, too, was more vigilant when arriving and entering the premises alone. We went from an open-door policy to a locked and guarded door with security. This created a dichotomy to the welcoming programs and services we offered.
Michael Atlas-Acuña: I'd also add that when it became known that [Holzer] was a transplant to Pueblo in recent years, we all felt much better knowing that he was not a "home grown hater."
ADL: How are you and the synagogue doing, one year later? How have people responded to support the congregation in the wake of the incident?
Michael Atlas-Acuña: The congregation is doing great and the Pueblo community has continuously demonstrated its support.  The Shabbat following [Holzer's] arrest, we had over 350 people show up for the service, including our State Representatives.  The Synagogue was so full that it was standing room only inside and the people outside formed a human chain around the Temple and were praying and singing. We broke every fire code there is, but I suspect the fire department was okay with it given the circumstances.  Thinking back, this would not have been possible if COVID had hit at that time.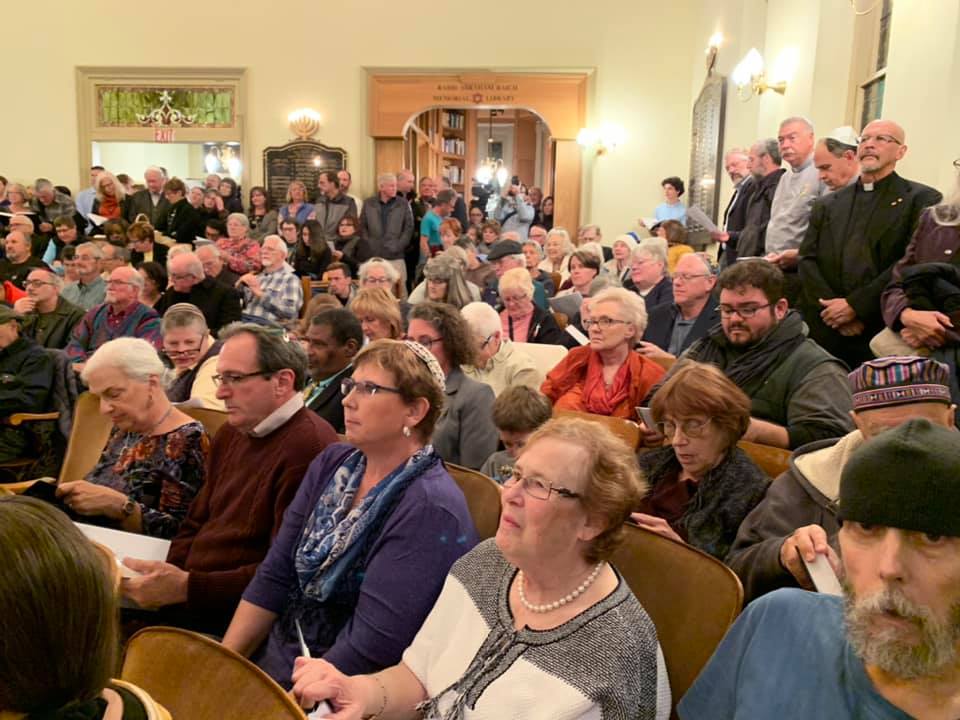 Rabbi Becker: Additionally, Mike and I spent several days being interviewed by what seemed like every news station and newspaper, which gave the congregation wide ranging publicity. Calls came in from former Pueblo residents and friends from around the world. We spoke to print reporters from the Denver Post to the New York Times, and from television and radio reporters from ABC, NBC, CPR, and NPR. The reporters were from around the country, as well as from as far away as Israel and Germany. The exposure generated critical funds that were used to provide a security system and security personnel for large gatherings.
With Holzer's recent  plea deal, I formally retired. I had announced during the 2019 High Holidays that I would be retiring as of December 2019, but I ended up staying on because I wanted to remain until this situation was resolved.
ADL: As awful as this was, has it brought any opportunities for coalition work and/or community building that you can share?
Rabbi Becker: We have had good relations with the interfaith community. I was part of the Interfaith Council. Non-Jews have been strong supporters and participants in the Temple and our services were frequented by non-Jews on a regular basis. We had hosted visiting groups from churches and students from the University's religious studies program for many years. We participated in cultural, religious and Holocaust programs in the community at large and both the community and local media were open and interested in advancing knowledge of the Jewish community. This also brought us closer to the other synagogue in town, United Hebrew. And, while I had made jail visits and knew some of the police force, and Mike also had a strong relationship with the police, this event solidified that connection.
Michael Atlas-Acuña: The Pueblo Police Department has also been a good friend to us. Officers patrol the synagogue during Shabbat services and as requested for other holidays.  I have a direct line to the Chief and Deputy Chief of Police.  We have been contacted by several church groups to show their support.  Pueblo is a loving community and we have always been respected as Jews and the response we received from the community after this incident demonstrated that.
—————
Last year's plot to blow up Temple Emanuel was just one of 61 cases of antisemitic harassment and vandalism that the ADL Mountain States Region tracked in 2019. The number of antisemitic incidents reported in Colorado increased by 56 percent from 2018 to 2019 and surpassed a peak that had previously been reached in 2017 when there were 57 incidents reported in the state. Reports of antisemitic incidents from the past four years are the highest in the past decade in Colorado. To report an antisemitic or other bias-motivated incident, visit www.adl.org/reportincident.