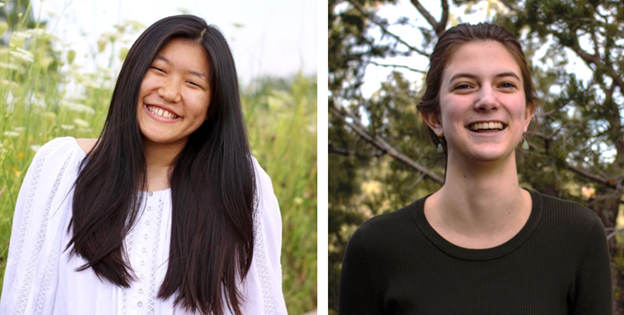 The ADL Mountain States Region is so pleased to welcome Tenzin Dorje and Camille Simmons as regional interns during the 2021-22 academic year.
Tenzin Dorje is ecstatic to be working with the ADL this fall as a Mountain States Regional intern. She was born in Queens, New York, and moved to Colorado as a child. Tenzin is in the final year of her undergraduate education at CU Boulder where she studies Political Science.
Tenzin is deeply involved in her Tibetan community, including in the realm of legislative and social advocacy. Tenzin has participated in Tibet Lobby Day and in the Tibetan Youth Leadership Conference where she has learned useful skills for her time at ADL. On campus, Tenzin is involved with TEDxCU, where she helps run speaker events that work to bring the community together.
Following graduation, Tenzin hopes to become an attorney specializing in assisting those seeking legal aid.  No matter what she ends up doing, Tenzin wants to carry the traits of empathy and kindness in her field of work and in her personal life. She is particularly grateful to be working at ADL, a nonprofit that carries the traits that she herself values of kindness, empathy, and justice, while also challenging and broadening her perspective on the world.
In her time off you can find Tenzin with family, catching up on her favorite TV shows, or taking a self-care day.
Camille Simmons is thrilled to be interning at ADL for the 2021-2022 academic year. She was born and raised outside of Albuquerque, NM and now studies at Pomona College where she is pursuing a double major in Religious Studies and Political Science. Outside of class, Camille can be found debating with the Model UN team and playing flute in the orchestra.
Camille has experience in local politics, as a volunteer for current NM Democratic Party Chair Jessica Velasquez's NM House campaigns and as an intern with Senator Martin Heinrich's Albuquerque Office. She has also worked as a research assistant to her Arabic professor, editing a manuscript about politics and religion in Lebanon.
After graduating, Camille hopes to work with a non-profit or government organization researching hate groups in order to combat them more effectively. As Camille asks, where better to start than with ADL and its work to promote the fair treatment of all? She is looking forward to contributing to ADL's impactful work, particularly in policy and education. In her free time, Camille can be found gardening, rock climbing, or playing Scrabble with her family.