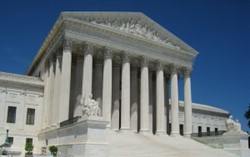 As summer continues, we hope that you have had time to relax and rejuvenate. With time at home, many of us – and our students – are watching the news, and there's a lot to process. Here are some new ADL resources to help you have those important conversations.
What Will Happen to Abortion Rights Now that Roe v. Wade is Overturned?
Utilize ADL's new Table Talk to engage in a family conversation about the impact of Roe v. Wade being overturned. Our discussion guide includes background information, suggested questions and ideas for taking action.
When it Comes to Bias, We Must Prioritize Impact over Intent
What's the difference between intent and impact? This new anti-bias teaching tool explores why it's important to focus on the impact of our words and actions, especially when it comes to biased or offensive language.
Save the Date for Our Next Author Read-Aloud Program!
ADL is delighted to announce that we will feature award-winning author-illustrator Duncan Tonatiuh at our next Author Read-Aloud on Wednesday, September 28 at 2:00 pm MT.
Tonatiuh's numerous accolades include the American Library Association's Pura Belpré Award and Robert F. Sibert Medal. Both Mexican and American, his artwork is inspired by pre-Columbian art. Tonatiuh's aim is to create images and stories that honor the past, but are relevant to today's people, especially children. He grew up in and currently lives in San Miguel de Allende, Mexico. He has written several children's books, two of which were ADL Education's Monthly Featured Books: Separate Is Never Equal: Sylvia Mendez and Her Family's Fight for Desegregation and Undocumented: A Worker's Fight. To learn more about Duncan Tonatiuh, please check out his website and the Abrams Books website. Our webinar series, called Changing the World One Word at a Time, features prominent children's book authors. We are excited to add Duncan Tonatiuh to this wonderful group of authors.
As always, you can visit https://www.adl.org/education for all the latest lesson plans, resources and more.