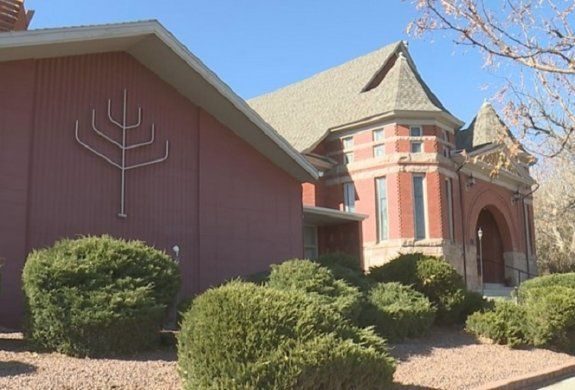 Denver, CO, February 26, 2021 …The Anti-Defamation League Mountain States Region welcomed today's announcement that alleged white supremacist Richard Holzer was sentenced to 19.5 years in prison by a federal court. Holzer pleaded guilty last year to federal hate crime and explosive charges for plotting to blow up Temple Emanuel Synagogue in Pueblo in 2019.
ADL Mountain States Regional Director Scott Levin issued the following statement:
Today's sentencing brings some closure to an incident that caused pain and fear in Pueblo's Jewish community, as well as alarm and concern for all Jews in Colorado and across the country. It is especially important that Richard Holzer was convicted and charged for a federal hate crime. Antisemitism is on the rise in Colorado and across the country. Today's sentencing sends a strong and clear message that hate and violence targeted at people because of their religion, race, national origin, sexual orientation or any other defining characteristic will not be tolerated.

We extend gratitude to the Pueblo Police Department, Pueblo County Sheriff's Office, FBI and the United States Attorney's Office for the District of Colorado for their tireless efforts on this case. We also recognize and commend the leaders and members of Temple Emanuel Synagogue for their strength and resilience.
The 2019 plot to blow up Temple Emanuel was just one of 61 cases of antisemitic harassment and vandalism that the ADL Mountain States Region tracked in 2019. The number of antisemitic incidents reported in Colorado increased by 56 percent from 2018 to 2019 and surpassed a peak that had previously been reached in 2017 when there were 57 incidents reported in the state. Reports of antisemitic incidents from the past four years are the highest in the past decade in Colorado. ADL will release the 2020 audit of antisemitic incidents this spring.
ADL is a leading anti-hate organization. Founded in 1913 in response to an escalating climate of antisemitism and bigotry, its timeless mission is to protect the Jewish people and to secure justice and fair treatment for all. Today, ADL continues to fight all forms of hate with the same vigor and passion. ADL is the first call when acts of antisemitism occur. A global leader in exposing extremism, delivering anti-bias education and fighting hate online, ADL's ultimate goal is a world in which no group or individual suffers from bias, discrimination or hate. ADL's Mountain States Region covers Colorado, New Mexico and Wyoming. More at https://mountainstates.adl.org/.
###