Our country is facing an alarming increase in hate and New Mexico has not escaped incidents of harassment, vandalism and assault against people based on their religion, race, sexual orientation and perceived immigration status. The Anti-Defamation League (ADL) measures and reports on anti-Semitic incidents, which are a bellwether for hate against so many others. Fifteen anti-Semitic incidents in New Mexico were reported to ADL in 2017, nine involved harassment and threats and six involved vandalism. This represents a 36 percent rise over anti-Semitic incidents reported in 2016 and a doubling of incidents since 2015. Last year's incidents included:
Threats of violence against a Jewish blogger
Bomb threats at the JCC
Swastika graffiti at Los Alamos National Laboratory
Theft of a mezuzah from the doorpost of a home
Anti-Semitic messages from a wedding vendor to a potential client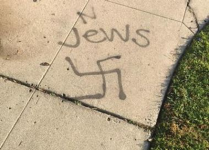 Since the beginning of 2018, ADL has responded to a number of anti-Semitic incidents in New Mexico, including allegations of bias against high school and college students, an incident in which a mezuzah was ripped off the door of an apartment, and an allegation of discrimination against a Jewish teacher who took authorized time off for a Jewish holiday.
Over the past year, ADL has also responded to troubling content in New Mexico newspapers, including articles in the Santa Fe New Mexican, Albuquerque Journal, and an editorial cartoon that appeared in the Santa Fe Reporter.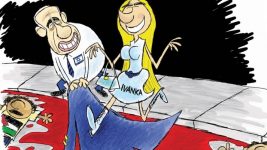 ADL remains committed to responding to anti-Semitism and bigotry in all its forms. To report an incident, please go to: http://www.adl.org/report-an-incident.