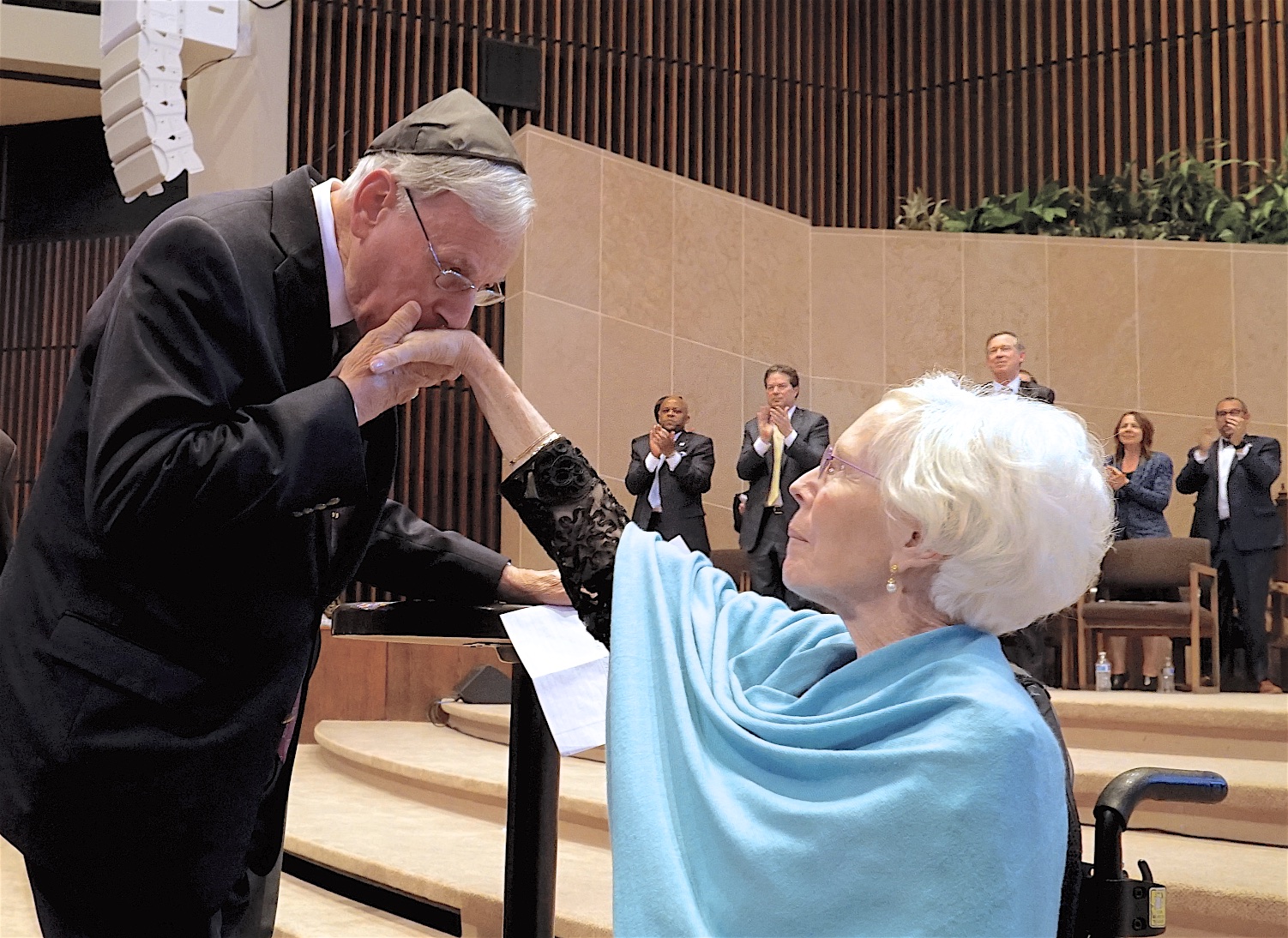 On May 4, 2016, ADL hosted its 35th annual Governor's Holocaust Remembrance Program, one of the largest such events in the United States. Over 1,600 people attended the program at Temple Emanuel in Denver. The program included a moving tribute to the family of Dr. Maria Kiss Madi, a Hungarian rescuer whose family was presented with a Righteous Among the Nations Award at the event. Madi was a Hungarian doctor who passed away in 1970 at the age of 72. At great risk to herself, Dr. Madi hid two Jews in her apartment for several months: 7-year-old Alfred Lakos and his aunt Irene "Lacy" Lakos, saving them from certain death.
The Righteous Among the Nations award, established by Yad Vashem upon its founding in Israel in 1953, pays tribute to a select number of rescuers whom the museum designates following a rigorous application process as "Righteous Among the Nations". The award is among the highest honors bestowed by the State of Israel. Consul for Political Affairs Yaki Lopez from the Israeli consulate in Los Angeles bestowed the award to family members of Dr. Madi.  Over 40 family members and friends of the Madi Family as well as Alfred Lakos, now 79 years old, and his family, were present for the award ceremony. Madi's diary of her time as a rescuer is housed at the United States Holocaust Memorial Museum in Washington, DC.
In accepting the award, Barbara Blankinship of Colorado Springs, CO, Dr. Madi's granddaughter, shared her wish that "we all, like she, would make a difference in the world." Alfred Lakos, whom Madi rescued, told Blankinship and her brother, Stephen Walton of Amarillo, TX, that "without [Madi's] courage and sacrifice, I wouldn't be here. I don't remember if I ever thanked her enough. Therefore, let me tell you now in Hungarian, that I am eternally grateful."
The event also featured keynote speaker Margit Meissner, whose topic, "What You Do Matters," touched upon her own refugee experience and connected it to the experience of refugees fleeing the middle east for Europe today. Meissner also commended Governor John Hickenlooper for his leadership in welcoming refugees to Colorado. Meissner charged the audience to "find a way to transcend politics and nurture compassion" when faced with crises of this nature. Ms. Meissner is also the author of the memoir Margit's Story, published in 2003.    
Governor John Hickenlooper also offered remarks at the event. Speaking about the necessity of remembering the Holocaust and learning from it, the Governor reflected that "we can live our lives according to the status quo or we can exert our own influence on our community to do better. When we are standing along it's hard to be heard, but if we stand together we can rise above the fray."
In paying tribute to the Madi family, ADL Regional Director Scott L. Levin quoted the rabbinic teaching that "whoever destroys a soul, it is considered as if he destroyed an entire world," and its corollary, "whoever saves a life, it is considered as if he saved an entire world."
The event also included the presentation of awards to the winners of this year's student essay contest "A Tribute to Moral Courage," remarks by Rabbis Yakov Chaitovsky of BMH-BJ Congregation and Joseph Black of Temple Emanuel, the chanting of the memorial prayer by Temple Emanuel Cantor Elizabeth Sacks, and the lighting of the memorial candelabrum by Denver Holocaust Survivor Oscar Sladek and members of his family.
ADL thanks Mountain States Regional Board Members Justin Borus, Dan Feiner, Cheri Rubin and Sharon Schonhaut for chairing the program. The event was made possible by the generous support of: The Feiner Family Foundation, Michael and Debbie Feiner, MDC/Richmond American Homes Foundation, The Curtiss-Lusher Family and JEWISHcolorado.
Please see below for a select number of event photos.
In addition, several articles have been written about the program in the days following the event. "What You Do Matters," by Maria Madi's great-granddaughter, Sarah Blankinship, and a profile of Dr. Madi's heroism in the Times of Israel online publication by Amarillo journalist Karena Elliott are two such pieces.