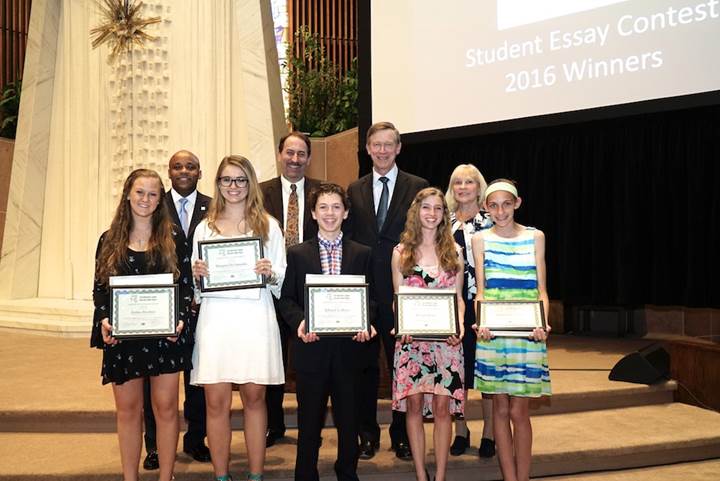 On May 4, 2016 the winners of this year's Student Essay Contest – A Tribute to Moral Courage: Standing Up Against Injustice – were recognized as part of ADL's 35th Annual Governor's Holocaust Remembrance Program in Denver. This year's contest was generously underwritten by an anonymous donor. The student essay contest uses the Holocaust as a backdrop for middle and high school students to write about an individual who demonstrated moral courage, and just as important, how that person's actions had an impact on the world and how those actions influence the students today.
After witnessing a once-in-a-lifetime presentation of the Righteous Among the Nations Award to the family of Dr. Maria Kiss Madi, a Hungarian rescuer, students received their awards from ADL Regional Director Scott L. Levin, ADL Board Member Sharon Schonhaut, Denver Mayor Michael Hancock and Governor John Hickenlooper.
Twenty judges chose six winning essays from over 150 thought-provoking submissions from students across Colorado and Wyoming.  Read the winning essays here.
2016 Student Essay Winners and their prize-winning essays
Division I – 7-9th Grade
First Place: Kendyl M., 7th Grade, Holy Family Catholic School, Grand Junction, CO
Essay Title: Small Act, Big Change
Second Place: Veronica B., 8th Grade, Lincoln Middle School, Ft. Collins, CO
Essay Title: Twenty-Six Miles of Equality
Third Place: Breann R., 8th Grade, St. Stephen Catholic School, Glenwood Springs, CO
Essay Title: The Rescuer of Holocaust Children
Division II – 10-12th Grade
First Place: Edward M., 10th Grade, Cherry Creek High School, Greenwood Village, CO
Essay Title: The Moral Courage of Marcel Marceau
Second Place: Margaux De O., 11th Grade, Peak to Peak Charter School, Lafayette, CO
Essay Title: Moral Courage Without Borders
Third Place: Jordan R., 11th Grade, Peak to Peak Charter School, Lafayette, CO
Essay Title: When Integrity is Stronger than Fear