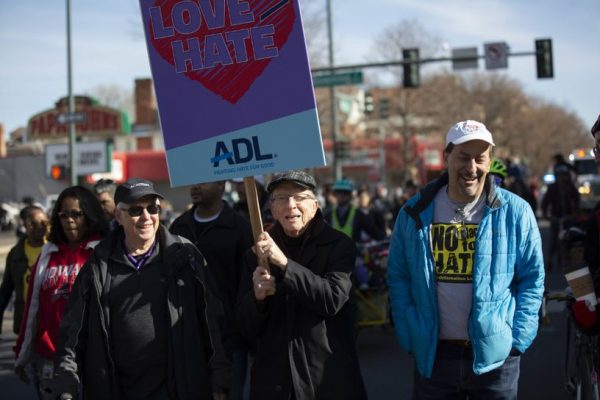 ADL is so grateful to Shelly Steinhauser for dedicating his 90th birthday celebration to supporting the Mountain States Region. Shelly answered three big questions for us about why ADL and its mission to stop the defamation of the Jewish people and to secure justice and fair treatment for all remains so critical.
ADL: What are the biggest changes you've seen between your time as the Mountain States Regional Director (1958-1985) and now – both at ADL itself, and in the world at large?
Sheldon Steinhauser: The ADL mission hasn't changed. Combating anti-Semitism and bigotry and securing justice for all is the same mission that inspired me to seek my first ADL position fresh out of college. If anything, there has been a greater emphasis on issues of racial and gender justice, which is appropriate for the times in which we live.  What has changed internally at ADL is the number of younger people represented on the Board, the increasing generational differences, diversity of the staff, the number of women in positions of leadership and the greater decentralization of its specialized services. One big difference is the awesome technology incorporated into ADL's communications and global reach – much different from the old mimeograph. fax machines and typewriters with carbon copies that were our staples in the early years.
ADL: You're a role model to so many. Who are some of the people that have served as sources of inspiration for you?
Sheldon Steinhauser: I was lucky enough to have parents who gave us a legacy of strong family values, a commitment to service and a love for Israel and Jewish life, including Jewish music. From the prophet Isaiah, I still draw my calling to seek justice and treat people with dignity and fairness, which is why I love reading his words during the High Holidays. From Milton Senn, of blessed memory, who was the Western ADL Director based in Los Angeles and my supervisor when I arrived in Denver, I found inspiration to remain committed to core principles and to do the right thing, even when it bucked the status quo; he also encouraged me to be an advocate for the needs of ADL staff throughout the country.  Finally, there were giants like Denverite Bernie Valdez, Dr. Martin Luther King, Jr. and John Lewis whose lives resonated with me since the civil rights struggle of the 60s. There are too many more to list here.
ADL: What is your advice for people who are committed to positive change? What should we be doing?
Sheldon Steinhauser: As with anything else you are committed to, it takes passion, tenacity, staying power, resilience and being able to cope in order to adapt and return to the fray.  Always remember that social change comes about through a combination of good people on the inside and good people providing pressure from the outside.  The latter is especially important in any area of social change. The late John Lewis called this "good trouble." I agree with that totally.