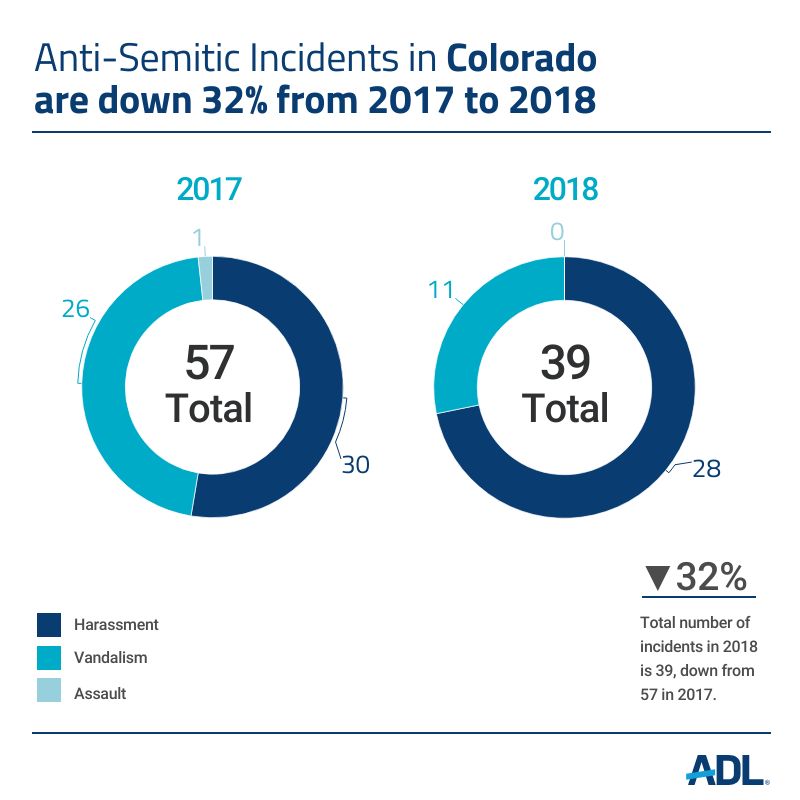 Denver, CO, April 30, 2019 … The number of reported anti-Semitic incidents declined slightly in 2018, but remained near-historic levels, according to new data released today by ADL (the Anti-Defamation League). There were 48 incidents of anti-Jewish harassment and vandalism reported in the three-state region of Colorado, New Mexico and Wyoming, with 39 of those incidents taking place in Colorado.
The number of anti-Semitic incidents reported in Colorado reached a peak with 57 incidents in 2017 and 45 in 2016. The last three year's reports of anti-Semitic incidents are the highest in more than 12 years in Colorado. In addition, Colorado had the third-highest number of white supremacist propaganda distributions in the country during 2018, with 72 literature drops and three white supremacist rallies. Only California and Texas experienced more white supremacist activity.
"We welcome any decline in anti-Semitic incidents. We remain concerned, however, that the level of reported anti-Semitic incidents over the last three years is the highest in more than a decade," said ADL Mountain States Regional Director Scott Levin. "We will not be happy until no individuals, families or Jewish institutions are targeted with anti-Semitic hate. To achieve this, we must all remain vigilant and continue to push back again anti-Semitism and other forms of hate."
The 2018 ADL Audit identified:
▪ 28 cases of harassment and threats in Colorado, 5 in New Mexico and 1 in Wyoming
▪ 11 cases of vandalism in Colorado and 3 in New Mexico
Nationwide, the U.S. Jewish community also experienced near-historic levels of anti-Semitism in 2018, including a doubling of anti-Semitic assaults and the single deadliest attack in U.S. history at the Tree of Life Synagogue in Pittsburgh, Pennsylvania. ADL's annual Audit of Anti-Semitic incidents recorded a total of 1,879 attacks against Jews and Jewish institutions across the country in 2018, the third-highest year on record since ADL started tracking such data in the 1970s.
2018 was a year marked by the white supremacist shooting spree that claimed 11 lives at the Pittsburgh synagogue and was punctuated by a dramatic surge in white supremacist propaganda activity nationwide. ADL's Audit identified 59 people from across the country who were victims of anti-Semitic assaults in 2018, up from 21 in 2017. While the overall number of incidents represents a 5 percent decline from the 1,986 incidents reported in 2017, the number of incidents last year remained at near-historic levels – 48 percent higher than the total for 2016 and 99 percent higher than in 2015.
ADL's Center on Extremism has gathered the complete 2018 data, as well as data from previous years, on ADL's H.E.A.T. Map, an interactive online tool that allows users to geographically chart anti-Semitic incidents and events nationally and regionally.
"Since 1979 the Audit of Anti-Semitic Incidents produced by the Anti-Defamation League has been an incredibly valuable resource for researchers and policymakers," said Jack McDevitt, Director of the Institute on Race and Justice at Northeastern University. "The audit identifies trends and emerging issues in hate crimes and analyzes these trends in ways that allow policymakers to address the issues in their jurisdiction. The increased number of anti-Semitic incidents tied to extremist groups is deeply troubling and should be addressed immediately by police and prosecutors."
The Audit offers a snapshot of one of the ways American Jews encounter anti-Semitism, but a full understanding of anti-Semitism in the U.S. requires other forms of analysis as well, including but not limited to, public opinion polling, assessments of online anti-Semitism, and examinations of extremist activity, all of which ADL offers in other reports, such as ADL Global 100, Quantifying Hate: A Year of Anti-Semitism on Twitter, Online Hate and Harassment: The American Experience, Murder and Extremism in the United States in 2018, and White Supremacists Step Up Off-Campus Propaganda Efforts in 2018.
HOW ADL IS RESPONDING
ADL has a comprehensive approach to addressing anti-Semitic incidents and behavior, including educating youth to prevent these incidents and working with law enforcement to apprehend the perpetrators. ADL works to enact laws to improve federal, state and local prevention tactics and response to anti-Semitic hate crimes and all forms of hate violence. ADL partners with law enforcement to raise awareness of extremist threats and trains law enforcement professionals to recognize and disrupt potential threats. ADL likewise provides education and training every day to students, reaching young people at a time when they are most vulnerable to bullying and social pressures.  ADL's No Place for Hate and Words to Action programs teach understanding and promote inclusivity in schools and on campuses, respectively.
ADL has been a longstanding partner in the effort to ensure the safety of Jewish community organizations and recently announced that former Homeland Security secretaries Michael Chertoff and Jeh Johnson will co-chair a new Community Safety and Security Task Force convened by ADL and Secure Community Network (SCN), the homeland security and safety initiative of The Jewish Federations of North America and the Conference of President of Major American Jewish Organizations. The task force will work to enhance the safety, security and resiliency of religious communities.
POLICY RECOMMENDATIONS
In response to the historic rise in anti-Semitic incidents over the past three years, ADL has made the following policy recommendations:
In the aftermath of the deadliest anti-Semitic incident in American history, public officials and civic leaders should use their bully pulpits to speak out against anti-Semitism and all forms of hate and extremism.
Congress should hold additional hearings on the increase in hate crimes, the rise of extremist groups and proliferation of their propaganda, and support legislation, including the Domestic Terrorism Prevention Act, that calls on the federal government to improve coordinated responses and collect data on domestic terrorism.
Policymakers must support efforts to provide law enforcement officials with the tools and training they need to prevent and effectively respond to hate crimes. Federal, state and local law enforcement agencies should also improve their procedures for responding to and reporting hate crimes.
School districts should promote anti-bias and bullying prevention programs in elementary and secondary schools. Congress, the U.S. Department of Education, state legislators and mayors should increase funding to promote an inclusive school climate and for anti-bias education and hate crime prevention.
"It is incumbent upon our leaders to continue fighting anti-Semitism at every opportunity," said George Selim, ADL Senior Vice President of Programs and a former DHS official. "We will continue to advocate for legislative and other remedies to ensure that there is no place for anti-Semitism in our society."
The ADL Audit includes both criminal and non-criminal acts of harassment and intimidation, including distribution of hate propaganda, threats and slurs. Compiled using information provided by victims, law enforcement and community leaders, and evaluated by ADL's professional staff, the Audit provides a regular snapshot of one specific aspect of a nationwide problem while identifying possible trends or changes in the types of activity reported. This information assists ADL in developing and enhancing its programs to counter and prevent the spread of anti-Semitism and other forms of bigotry.
ADL is the world's leading anti-hate organization. Founded in 1913 in response to an escalating climate of anti-Semitism and bigotry, its timeless mission is to protect the Jewish people and to secure justice and fair treatment for all. Today, ADL continues to fight all forms of hate with the same vigor and passion. A global leader in exposing extremism, delivering anti-bias education, and fighting hate online, ADL is the first call when acts of anti-Semitism occur. ADL's ultimate goal is a world in which no group or individual suffers from bias, discrimination or hate. ADL's Mountain States Region covers Colorado, New Mexico and Wyoming. More at https://mountainstates.adl.org/.