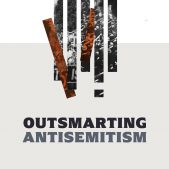 Beginning November 2nd, Chabad centers in Colorado will offer a four-week, Jewish Learning Institute (JLI) course titled Outsmarting Antisemitism. Mountain States ADL will be enhancing this groundbreaking course by offering a special insider briefing on "Current Trends in Antisemitism and What to do About Them" for anyone enrolled in the class as a follow-up session on December 8.
Using history, Talmudic sources, Jewish mysticism, and contemporary expert analysis, the course addresses some of the troubling questions we grapple with as individuals and as a community: Why does antisemitism persist? How can we make hate go away? How can we counter Israel-focused antisemitism and prevent our own youth from unwittingly lending their voices to antisemitic agendas?
"The creators of the new JLI course 'Outsmarting Antisemitism' assert that 'Antisemitism is the world's most reliable early warning sign of a major threat to freedom, humanity and the dignity of difference. It matters to all of us, which is why we must fight it together.' At ADL, we couldn't agree more," says Sue Parker Gerson, ADL Mountain States Senior Associate Regional Director.

"With antisemitic incidents at their highest numbers in decades, there is no better time to focus on combating this scourge. We look forward to sharing a special insider briefing on current trends in antisemitism and how to respond to them with participants in the class as a fitting conclusion to this important course of study."
The course is offered both virtually and in person at the various Chabad centers throughout Colorado. Students can find their closest Chabad center offering this course at www.myJLI.com
Like all JLI programs, Outsmarting Antisemitism is designed to appeal to people at all levels of knowledge, including those without any prior experience or background in Jewish learning. All JLI courses are open to the public, and attendees need not be affiliated with a particular synagogue, temple, or other house of worship.