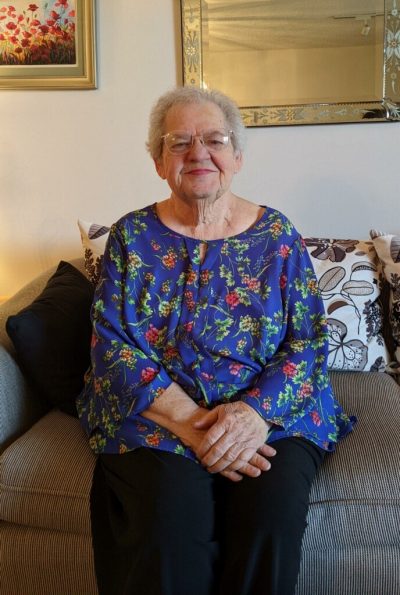 This year's ADL Virtual Governor's Holocaust Remembrance Program, presented in partnership with Jewish Family Service of Colorado in celebration of its 150th anniversary, features a panel discussion about the Conference on Jewish Material Claims Against Germany (the Claims Conference). One of the panel participants, Marion Goldstein, is a Holocaust survivor who was born in Shanghai, China and came to the United States at the age of eight. We recently sat down with Marion to talk about her life during the war and how her experiences shaped her.
ADL Mountain States Region: Please describe your family's life before the Holocaust.
Marion Goldstein: My parents were both from Germany. Dad grew up in Berlin where he owned a stationery shop; his parents owned a stationery shop and a toy store. My dad's family was very comfortable financially, with a nice home, artwork – that sort of thing. Life was good, but with the rise of the Nazis, it all changed very quickly. My dad was 30 when he left. His parents stayed behind.
Mom was from Leipzig and was 32 when she left Germany together with my grandmother. My mother's family was very fortunate because we had an uncle – Philip Stahl – who was very prominent in the Jewish community of Leipzig and quite wealthy. My grandmother had been widowed when her four children were young, and Uncle Philip subsidized a corset shop that my grandmother then ran to support the four children. Leipzig was the fur capital of Europe and my mom worked in the fur industry doing clerical work. We were also fortunate because my mother's brother, my Uncle Willie, left in 1934 and moved to Shanghai to open an Asian branch for the Siemens corporation. So, we already had one foot in the door when we decided to go there.
ADL: How did your parents make the decision to leave? How did they end up in Shanghai?
MG: Shanghai was the only place where European Jews did not need a passport or a visa to enter. There were between 18,000 and 20,000 Jews who left right around when we did, and we all ended up in Shanghai. For our family, of course, part of the draw was that Uncle Willie was already there.
By 1938, the Nazis were already making Jews wear armbands, and were stopping and harassing Jews in the street. They were taking them to concentration camps and then, on November 9, 1938, Kristallnacht happened. My mother and grandmother left Germany the same day.
I really don't know how my mother and grandmother managed to leave Germany. Uncle Willie kept saying to leave, and finally, they listened to him. My mom's siblings all survived the war because they left and went to different countries when they could, including Great Britain, South Africa and Palestine.
My dad left because a friend offered him a ticket that he couldn't use himself. He kept writing and trying to convince his parents to leave as well, but they insisted that Hitler wouldn't harm the old people. That was ridiculous because they in fact died in the Theresienstadt concentration camp. He just couldn't convince them.
My parents met on the boat to Shanghai. My father had gotten on in Genoa, Italy, and they had a whirlwind shipboard romance. They met in the fall of 1938, got married in 1939, and I was born on September 11, 1940.
ADL: What was your family's life like in Shanghai? How did the war impact you there?
MG: When my parents first got to Shanghai, life really was very good. They lived in the French Quarter, and it was a lovely place with greenery and trees and park benches. My mother had managed to take very little money when she left, but like most of the Jews who had grown up middle class or better, she had jewelry to sell. My dad used the money from that sale to open a restaurant with another man in the French Quarter. The downside was he managed to find a partner who was a gambler, so anything earned in the restaurant went down the tubes.
By the time I was born in 1940, Hitler had gone into cahoots with the Japanese and wanted the Japanese to destroy the Jewish population in Shanghai. Cooler heads prevailed and the Japanese refused.
The Japanese invaded Shanghai in 1943. They put all of the Jews, including our family, into an internment camp located in Hongshew. If you visualize a NY tenement, the rooms we lived in were like that. It was one large room which served as everything – bedroom, living room, kitchen. We didn't have to share the room with anyone else, so it was just my family living in the unit.
There were no real bathrooms; the "bathroom" we used was a barrel housed in a separate small room downstairs that a "lucky" Chinese person came and emptied daily. Shortly before we left Shanghai, a piece of the wall in our apartment fell to the ground; we were lucky no one was killed. It was just the most primitive living you can imagine. Of course, there was no electricity there, or if there was, I don't remember it. It was a horrible place, and we were living in sheer poverty.
There was no food. The only reason we survived Shanghai was because the Joint Distribution Committee (JDC) would send us a box every month of canned goods that supplemented our poor diet. One of the things they sent was pumpkin, which is an American product, and my mother thought it had no taste! So, she would open a can and then dump it out and save the tin. Some of the Chinese people would come and take those tins, melt them down and repurpose the metal to create beautiful things – teakettles or pots – that were very practical. As a result, they would pay for the tins, so that gave my parents a little more money. Every little bit helped.
Other than putting us in the internment camp, very few specific actions were taken against Jews. My dad was allowed to leave the camp for work as long as he returned at night. Some of the Japanese guards that watched the gates of the camp were not very kind. They beat up some of the Jewish men, but the women and children were not, as I recall, treated poorly. The men paid the price.
Luckily, my grandmother was not forced to live in the internment camp with us. Because my uncle had had an apartment of his own for years since he moved to Shanghai to work for Siemens, my grandmother was able to live with him instead.
One good thing that came out of this situation was that everyone was in the same boat. My parents were very sociable; my dad played a game called Skat with other men in the area in the alley by the building, and I played with the other children. I went to a privately run Jewish school that was quite religious. The school was founded by Mr. Kadoori, who was part of a wealthy family of Iraqi Jews.
ADL: What happened after the war ended? How did you come to the US?
MG: The war ended in 1946 and that's when most of the Jewish population applied to leave Shanghai. Although my parents applied to leave in 1947, we weren't able to go until 1948. The process of leaving Shanghai was slowed because American navy transport ships were used to gradually get people out, and we couldn't all leave at once. When my dad initially applied, he wasn't permitted to leave because they found a shadow on his lung and they were afraid that he had TB, which many of the people had. He went back in 1948 to get checked again and they found nothing had changed, which meant that the shadow must have been from pneumonia he had when he was a child in Germany. So, he got cleared to leave and in August 1948, we went to the United States.
We came by ship to San Francisco in August of 1948, just one month before I turned 8. Jewish Family Services greeted us and took us to the hotel where we stayed for the next three months so my mother could have all her teeth extracted; she was quite ill and malnourished. After she recovered, JFS gave us three options for relocation: Los Angeles, Seattle, and Colorado. My dad heard the weather was good in Colorado, and so we came here.
JFS was also extremely helpful to us when we arrived in Colorado. We had no housing, so JFS found a room for us in a side-by-side homes owned by two sisters – Anna Zesch and Dorothy Tamarkin – on the West Side of Denver. Anna and her husband and their four children lived in one half of the double and Dorothy and her husband Oscar lived in the other half with their son. We were given their living room as our private space, they kept their private bedroom, and we shared the kitchen. To us, it was princely after living in the decaying one room in Shanghai. We lived in the shared double for two years, and I went to Cheltenham school. We then moved into an apartment of our own on the East side of Denver at the corner of 15th and Grant, and I started in second grade at Emerson school. I went from there to Morey Jr. High and on to East High School.
Anna was wonderful because she got a job for my dad loading bread trucks for Star Bakery. It was under the viaduct, and he would walk to work every day since he did not drive. My dad worked at Star Bakery for many years and then got a job at National Jewish Hospital where he did all sorts of work. One of his favorite things was to pick up people at the train station who were coming to be treated. He also picked up the mail and drove patients to where they needed to go. He had that job for over 11 years, and it was just perfect for him because he was a real people person. My mother had a job cleaning houses and in later years, worked at the Denver Dry Goods.
My parents and I had a happy life in Colorado. I'm so fortunate that we settled here.
ADL: How did you become aware of the work of the Claims Conference? How has being a recipient of restitution impacted you?
MG: I was working at JFS with Mirella Schreiber, and she said to me one day that she knew my parents had received restitution because they were Holocaust survivors, and that Germany was offering further restitution to children as well. She explained everything to me and even arranged it for me, and I was very fortunate to have her guidance with the process.
I feel that we were certainly deserving of the restitution that was made. I never felt poor, but my parents worked hard every day until they both passed away, my father at 62 and mother at 81. The money certainly helped in many ways, and it was money I felt very good about getting from Germany because they had made that decision to do restitution. It's not enough money to live on, but it's an amount that certainly helps, especially now that I am retired.
ADL: What do you believe we can do to fight indifference, hatred, racism, and antisemitism today?
MG: There has always been bigotry and prejudice against Jews and others, but there isn't enough done to combat it. JFS is fulfilling that mission in so many ways. For example, they are now working with Afghan families and continue the good work they have done for 150 years, including bringing my own family to this country.
We need to educate people in a better fashion to become more accepting. I think people who grow up with prejudice or parents that experienced it – like my own parents – are even more aware of the effects of bias and bigotry. I also believe that being educated makes one more accepting of others.
ADL: What message would you like to leave with the people who will read this interview?
MG: The best thing that ever happened to me and my family was to be able to get to the USA. I understand why so many people want to get here and fight to get here. Unless you are an immigrant, I don't think it's possible to understand the type of gratitude that we ourselves felt and that I continue to feel. Unless they have lived outside of the country, I don't know if people really understand how fortunate we all are to reside in this democracy.
We hope you will join us at this year's 41st Annual Virtual Governor's Holocaust Remembrance Program.
Click here to register.