The No Place for Hate Excellence Awards were created for schools that stood out because of a specific activity or a year-long culmination of activities that significantly impacted their school community – activities that were unique and went above and beyond common No Place for Hate efforts. In 2020-2021, ADL was thrilled to announce the following winners:
Palmer Elementary School (Denver Public Schools) – is a 7th YEAR No Place for Hate (NP4H) School, and has strong connection to their community. Principal LuAnn Tallman and teacher Alice Martin have been the driving force of the success of NP4H at their school.  With their student NP4H Coalition, they have used art, children's literature, and in particular – every teacher leads a weekly lesson from the AmazeWorks curricula, grounded in Anti-Bias Education Theory, that specifically addresses bias, prejudice, racism, and other harmful inequities. These lessons focus on teaching the students empathy and belonging, and how to treat others that are different from themselves with respect and appreciation.
Palmer has proven, year after year, that even the youngest of elementary-aged students can understand, recognize, and challenge biased behaviors and actions. Of course, it is easy for children (and adults) to see others expressing bias, but at Palmer, the students and teachers work on identifying and confronting their own biases. Their learning environment does not simply look at anti-bias work as an add-on or a box to check off; they have crafted an educational culture and climate that fully embraces and seamlessly fuses anti-bias as not just what the Palmer community teaches and learns, but how they teach, learn, and live!
McAuliffe Manual Middle School (Denver Public Schools) – is a 1st year NP4H school and Dean of Culture Ben Marcial and Restorative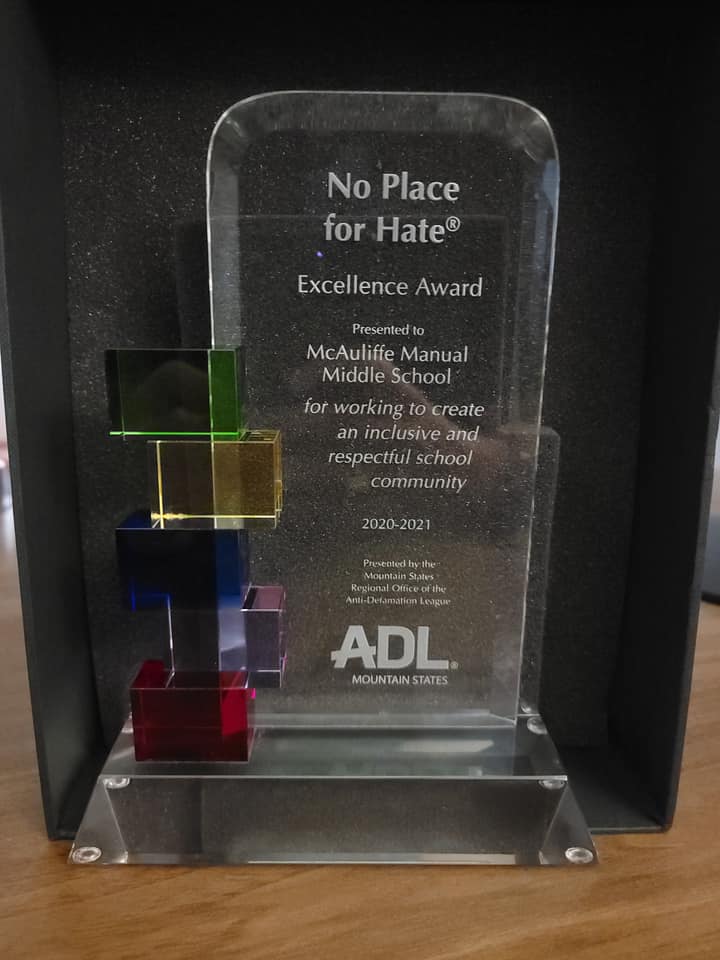 Justice/Social Emotional Coordinator Joi Jackson implemented No Place for Hate at McAuliffe Manual (MMMS) enthusiastically and fearlessly, with their student coalition, MMMS worked with other student groups and programs to ensure everyone was engaged and involved. They surpassed the minimum activity requirement, submitting over five activities. Each activity was created and implemented with incredible intent and purpose. Two stand out:
"Social Justice Wednesday" become a cornerstone at MMMS. It was a weekly, dedicated time for students and staff to explore social variables that impact their daily lives. Social Justice Wednesday is "student led, adult supported and school invested." Students discussed biases, pronoun usage, intersectional identities, student rights, exploring family history and much more.
Like many schools, MMMS had to rethink how to establish, develop, and nurture the important relationships that students form with one another and with their educators. The answer for them was – Virtual Enrichments. Using a digital learning platform, students were provided space for all to come together based on common interests and identities. This included spaces for their Gender Spectrum Alliance, Black Student Alliance, Estudiantes Unidos Young Female Leaders Club, Climate Activism Team, Law, Mandarin, just to name a few. Relationships were central to Virtual Enrichments, but these spaces also showed students their common interests beyond the differences in their physical appearance or socioeconomic status. They also were able to practice appropriate online behaviors and real-life situations to recognize and challenge cyberbullying and use their digital media literacy skills.
Pathfinder High School (Fremont County School District #1,Wyoming) – is a 3rd year NP4H school and is located in the middle of Wyoming, at the southern tip of the Wind River Reservation, located on the traditional ancestral and contemporary lands of Indigenous people, including the Eastern Shoshone, Crow, Cheyenne, and Northern Arapaho tribes. Unique in its geography and history, Pathfinder is also the Alternative High School Education Community in the Fremont County School District. A small school of approximately 55 – 9th through 12th graders, in a small district in the least populated state, there is no doubt about the power and voice of this amazing NPFH Coalition!
Teacher Ben Catton is extremely dedicated to this work, however, he informed us, that due to Covid, Pathfinder HS wasn't going to be able to participate in 2020/21.  However, his students returned to school and disagreed asking,"WHY AREN'T WE a NO PLACE FOR HATE school this year?"
Pathfinder's NP4H Podcast was an ingenious method for the Pathfinder community to hear about students' personal experiences of bullying and stereotyping in their own educational narratives and the ways in which they can improve Pathfinder's culture and climate.