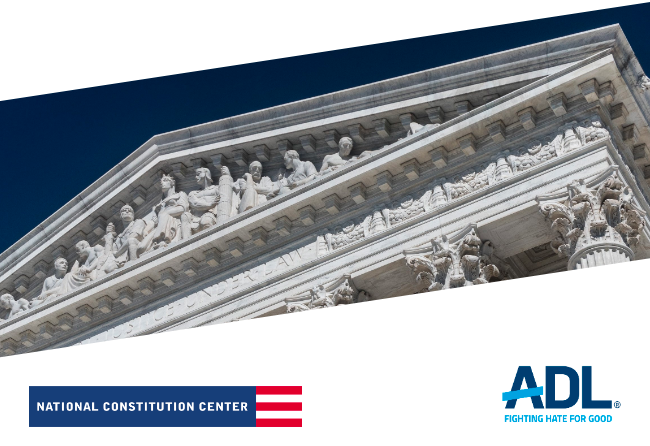 On August 4th, ADL and the National Constitution Center virtually hosted the 21st annual Supreme Court Review. Among the guest speakers were Erwin Chemerinsky, legal scholar of constitutional law and federal civil procedure, Paul Clement, the 43rd Solicitor General of the US, Frederick Lawrence, legal scholar and author of "Punishing Hate: Bias Crimes Under American Law" and Dahlia Lithwick, senior editor at Slate and host of the legal podcast "Amicus."
The group reviewed how this SCOTUS term has been different from those of the past including the small number of cases discussed, the novel introduction of telephonic argument and the high quantity of 5:4 decisions, the majority of which saw Chief Justice Roberts as the swing vote. The panel explored each justice's positioning along the ideological spectrum and much time was devoted to the impact that the appointments of Justices Gorsuch and Kavanaugh have had upon recent Court decisions.
Some key cases of the year were explored in depth, including DACA protection, ministerial exception rulings, Title VII, Comcast v. National Association of African- American-Media, June Medical Services LLC v. Russo, Mecgirt v. Oklahoma, Trump v. Mazars/ Trump v. Vance and Espinoza v. Montana Dept. of Revenue. These cases resulted in monumental changes for Native American land protections, explicit extension of Title VII to cover sexual orientation and gender identity, and abortion service protection in Louisiana. Compelling discussions were held over the subpoenas of President Trump's financial records and subsequent investigations as well as the arguments around the separation of Church and State in funding and scholarship programs of Montana.
The final portion of the program highlighted future cases expected to come before the Court including challenges to the Affordable Care Act, efforts of gun activists to extend the Second Amendment, foster home placement with LGBTQIA+ couples and voting access as the COVID pandemic continues.
A huge thank you to everyone who joined us for the call and to our guests for sharing their thoughts and wisdom in these turbulent times.
Click here to view a full recording of the program and for more information including speaker bios and the cases discussed by the panel.