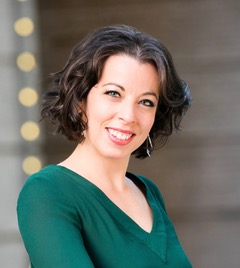 Leorah Young, a member of the Mountain States Anti-Defamation League Regional Board and Co-Chair of ADL's NextGen 360, was honored on June 7, 2020 with the Daniel R. Ginsberg Leadership Award at ADL's Virtual National Leadership Summit (VNLS), which recognizes outstanding leadership in the fight against antisemitism, racism and all forms of prejudice. Due to COVID-19, ADL's annual and exclusive in-person gathering of emerging and established volunteer leadership was held online this year.
Hosting both the National Commission and the community of Glass Leadership Institute (GLI) participants and alumni, VNLS provided an opportunity for our top leaders to engage with ADL's vital agenda, hear from distinguished speakers, and interact with peers from across the country. This year's Summit speakers included Andrew Yang (Former Presidential Candidate and Founder, Humanity Forward), Van Jones (Contributor, CNN), Governor Andrew Cuomo (State of New York) and Mayor Eric Garcetti (City of Los Angeles).
Young's contributions to the Mountain States region include serving and furthering ADL's young leadership initiatives, including the Robert B. Sturm Mountain States Leadership Fellows Program and the GLI alumni committee, NextGen 360. These programs have been invaluable for ADL to sustain a pipeline of emerging leaders into the organization. She is not only a Robert B. Sturm Fellows/GLI alumni, Young has gone on to serve as a Fellows Program co-chair (2018-2019), where she has mentored participants and helped recruit alumni to stay engaged in ADL by participating in NextGen 360, where she currently serves as co-chair. She joined the Regional Board in 2016.
Young was also featured in the Denver publication, Intermountain Jewish News, as a "VIP New Faces: 15 Under 40" (2019).
Reflecting on Young's contributions to the Mountain States Region, Regional Director Scott L. Levin said:
Leorah's invaluable leadership has not only benefited ADL's present, but strengthens our future. Because of her participation in the Robert B. Sturm Mountain States Leadership Fellows Program and NextGen 360, she is one of our region's leading voices in engaging young people who ensure that our region's committee and board representation is multigenerational. We are incredibly grateful to have Leorah's leadership and she deserves every bit of this recognition.