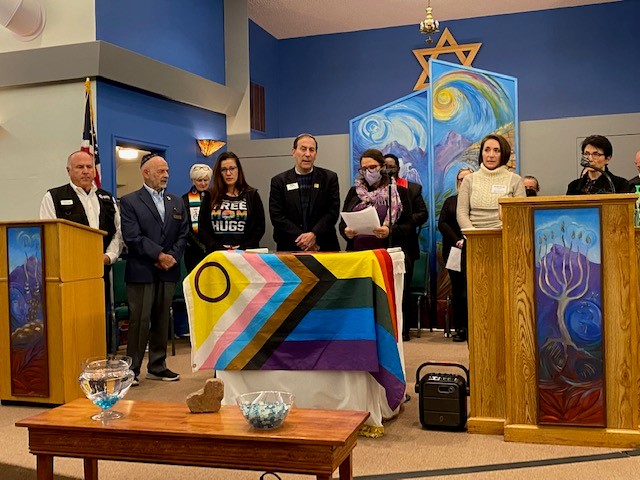 Once again, we wake up and begin a new day and a new week with heavy hearts. We are heartbroken and devastated by the deadly attack Saturday night at Club Q, an LGBTQ+ nightclub, in Colorado Springs. We mourn together with the victims' loved ones, and pray for a speedy recovery for those injured in this senseless attack.
We are also angry. We are angry that five individuals were senselessly murdered. We are angry that 25 others were wounded. We are angry that a space for gathering in community was shattered with violence. And, we are angry that family members and friends are planning funerals at a time many gather to express gratitude and nurture our human connections.
For years, leaders in the LGBTQ+ community have sounded the alarm, warning that hateful rhetoric and threats continue to lead to violence against LGBTQ+ people. ADL's Center on Extremism has warned that far-right and extremist voices have launched a significant attack against the LGBTQ+ community in 2021-2022, demonizing people through repeated false claims that LGBTQ+ people are "pedophiles" who are "grooming" children in order to abuse them. This false and malicious narrative has fueled a slew of hostile legislation and policies aimed at erasing the discussion of LGBTQ+ related issues in schools, removing LGBTQ+ books from schools and public libraries and, especially, to ostracize, defame and harass transgender people.
Politicians, extremists, and pundits alike are fanning the flames of this hateful campaign, which not infrequently includes elements of antisemitism alongside its core anti-LGBTQ+ hate.
Communities at risk of hate-fueled violence understand that an attack on one of our communities is an attack on us all – and that people who hold multiple marginalized identities are particularly vulnerable.
We invite the community to join us for an interfaith vigil at 7 p.m. TONIGHT at ReelWorks Denver, 1399 35th St., Denver, CO 80205. The vigil will also be streamed live on Temple Emanuel Denver's website. 
Over the coming days, we will learn more about those killed in Saturday night's shooting. The grief and mourning process has only begun. The ADL Mountain States Region extends its support and care to all those impacted by this attack. We will continue to stand in solidarity with our LGBTQ+ community partners and all LGBTQ+ individuals in Colorado Springs and beyond.
In solidarity,
Scott Levin, Regional Director
ADL Mountain States
RESOURCES 
From ADL EDU: 
"The Club Q Shooting and The Ripple Effect of Anti-LGBTQ+ Hate"
"Empowering Young People in the Aftermath of Hate (English and Español)"
"Helping Students Make Sense of News Stories about Bias and Injustice"
Blog from ADL's Center on Extremism: 
"What is 'Grooming?' The Truth Behind the Dangerous, Bigoted Lie Targeting the LGBTQ+ Community"
Announcement from ADL and GLAAD on partnership to disrupt anti-LGBTQ+ hate: 
"ADL and GLAAD Partner to Counter Anti-LGBTQ+ Extremism and Hate"
From ADL GRACE (Government Relations, Advocacy, and Community Engagement):  
The Community Safety and Solidarity Coalition, which consists of the ADL, National Urban League, Values Partnerships, Matthew Shepard Foundation, and GLAAD, have signed on to a statement expressing solidarity and calling for a nationwide effort to prevent LGBTQ+ violence. For the full statement, please click here.
For individuals seeking support: 
Colorado Crisis Services, 1-844-493-TALK (8225)
National Victims of Violent Crimes, 1-202-467-8700
Crisis Text Line, Text HOME to 741741
Trevor Project, Text START to 678-678