Last Chance to Register for the ADL 2023 Civil Rights Awards Reception
September 13 @ 5:30 pm

-

7:00 pm

$75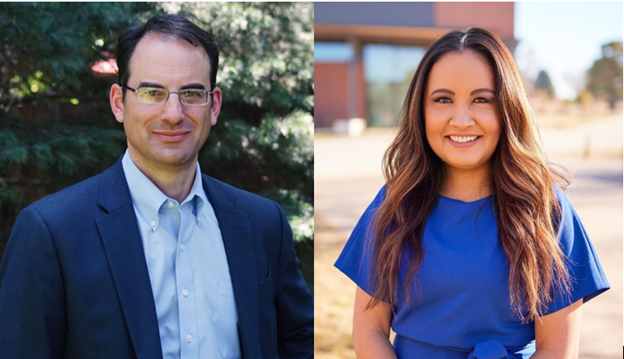 The ADL Mountain States Region's annual Civil Rights Awards Reception will take place from 5:30-7 p.m. Wed., Sept. 13 at the Cable Center in Denver. The honorees are Nga Vương-Sandoval and Colorado Attorney General Phil Weiser. For more information and registration click here.
Nga Vương-Sandoval is a proud Việtnamese refugee. She is a product of her ancestors, a fierce human rights and social justice advocate for underrepresented, forcibly displaced, and at-risk communities. She and her family fled their homeland due to the Việt Nam War and became refugees. They were displaced in refugee camps before resettling in the U.S. and were known as "boat people." She serves as the U.S. Refugee Advisory Board Project Manager, the first U.S. initiative connecting refugees and forcibly displaced leaders in the U.S. to regional and international policy bodies to ensure meaningful engagement in policies affecting them.
She is also a TEDx presenter, a Refugee Congress Honorary Delegate, an advisor with the Refugee Advisory Group for the United Nations High Commissioner for Refugees (UNHCR), and a founding member and public speaker with Colorado Refugee Speakers Bureau. Additionally, Vương-Sandoval is the first refugee elected to Lutheran Family Services Rocky Mountains Board of Directors.
During the past legislative session, she led the effort of the Lunar New Year Allies advisory group in pursuit of bi-partisan legislation that recognized Lunar New Year as an observed state holiday.
Phil Weiser was sworn in as the state's 39th Attorney General on January 8, 2019. As the state's chief legal officer, he is committed to protecting the people of Colorado and building an innovative and collaborative organization that addresses a range of statewide challenges. Weiser has dedicated his life to the law, justice, and public service.
Before running for office, Weiser served as the Hatfield Professor of Law and Dean of the University of Colorado Law School. He served as a Deputy Assistant Attorney General in the U.S. Department of Justice and as Senior Advisor for Technology and Innovation in the Obama Administration's National Economic Council. Prior to his appointment at the Justice Department, Weiser served as a law clerk to Justices Byron R. White and Ruth Bader Ginsburg at the United States Supreme Court and to Judge David Ebel at the Tenth Circuit Court of Appeals. The son and grandson of Holocaust survivors, Weiser is deeply committed to the American Dream and ensuring opportunity for all Coloradans.
ADL is also delighted to announce the winners of the 2023 Summer Associate Research Program Memo Competition who will be honored at the event. This year's winning teams both wrote about the intersection of the U.S. Constitution's First Amendment's Free Exercise Clause and discrimination against the LGBTQ+ community, especially in recent years. The winners are Zach Dube (University of Colorado Law School), Kristen Kennedy (University of Denver Sturm College of Law), Gisselle Eve Moreno (University of Denver Sturm College of Law) and Clark D. Seaman (Alexander Blewitt III School of Law at the University of Montana) from Bryan Cave Leighton Paisner, and Peter Lusk (Harvard Law School) and Tiana L. Wilson-Blindman (Berkeley Law) from WilmerHale.
For information on sponsorship opportunities, please visit the event website or contact Susie Moss, Director of Development, at mountainstates@adl.org.
Thank you to our event sponsors (as of August 21, 2023):
SPONSORS
The Lusher and Curtiss-Lusher Families
Elisa Moran and Gary Kleiman
BENEFACTOR
PATRON
AMG National Trust
Brownstein Hyatt Farber and Schreck, LLP
Bryan Cave Leighton Paisner LLC
Burg Simpson Eldredge Hersh Jardine P.C.
Feldman Mortuary
Foster Graham Milstein & Calisher, LLP
Holland & Hart LLP
JEWISHcolorado
David and Laura Merage Foundation
Lisa and Jonathan Perlmutter
Spencer Fane LLP
Michael Staenberg
Peggy Warner & Robert Matz
WilmerHale
Cobalt
Faegre Drinker
Martha and John Gart
Rob and Kathy Klugman
Harold Zelkind
FRIEND OF ADL

Denver Jewish Chamber of Commerce

Joshua and Betsy Epel

Laura and Robert Hill

Arlene and Barry Hirschfeld

Erin Nave and Eric Atlas

Laura and Chad Perlov
Beverly Breakstone
Susan Cooper and Rick Cohn
Ben and Elizabeth Figa
David Frieder
Lori Ann Knutson
Caryn Osterman
Jamie Sarche
Gayle M. Spelts
Stratton Rollins Heath Jr.