THE 39th ANNUAL ADL GOVERNOR'S HOLOCAUST REMEMBRANCE PROGRAM HAS BEEN POSTPONED.
With the continued spread of COVID-19, evolving guidelines for large community gatherings and out of respect for our community's health and safety – especially that of our honored Survivor community – ADL has made the difficult decision to postpone the 39th Annual Governor's Holocaust Remembrance Program (originally scheduled for Thursday, April 23). We are planning to reschedule this event later in the year. We appreciate your understanding in this unique time and look forward to updating you with further details in the coming months.
In the meantime, here are some things you can do to support Holocaust education and awareness:
You are also encouraged to stay connected with us on Facebook and Twitter. 
Thank you for your understanding and for your support of the ADL Mountain States Region and the Governor's Holocaust Remembrance Program.
ADL thanks the following generous sponsors (as of 3/26/20) for their continuing support: 

The Curtiss-Lusher Family
The Feiner Family Foundation and Michael and Debbie Feiner
MDC / Richmond American Homes Foundation
Keep reading for a special interview with Holocaust Survivor and hidden child Renee Fink.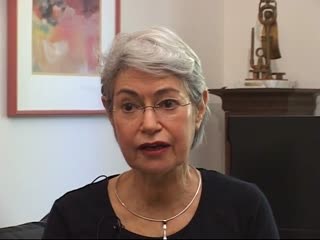 This year's ADL Governor's Holocaust Remembrance Program features a keynote interview with Holocaust Survivor and Hidden Child Renée Fink. We recently sat down with Renée to talk about her experiences during the Holocaust and her thoughts about how the experience impacted her both then and now. An excerpt from this interview is below.
ADL:    Please describe your life before the Holocaust. What was your family like?
Renée Fink:      In 1933, before I was born but after the Nazis came to power, my family fled Germany and went to live in Holland. They were an upper middle class educated professional family, and they had to leave behind everything. My father got a job working in a movie theater where he was part owner with a few others, and he drove a taxi. My mother was a secretary and worked for very nice people who gave us clothes. They bought a small but lovely home a block from the sea and ran it as a boardinghouse. My grandmother was the cook. We slept in the kitchen in order to rent out all the bedrooms. There had been no babies born in the family in a long time, so when I was born in 1937, they went pretty crazy over me!
ADL:    When you were four years old, you went into hiding. What was that like?
RF:      Well, I missed my parents terribly. When I adapted to the family that took me in and lost my shyness – although I never lost my homesickness – my life grew to be almost abnormally normal. Times were anything but normal, but that was the life I knew. I grew to love this family fiercely and they loved me.
I formed friendships with all my new sisters and brothers. I adored them. I loved them, and I felt loved. They could do no wrong. The war years were actually my best years, once I had to leave my original home with my parents. People don't understand that, but I felt love, I felt equal, and life was simple – emotionally simple. It was lovely. It never would be again until I married. It meant everything to me that I was with this family.
ADL:    How did you start your life again after the Holocaust? What was your experience when you came to the United States?
RF:      I was told one day we're getting on a boat and going to America. I was so frightened of the water that I didn't want to go; I had nightmares. Of all my family, my grandmother and my aunt had survived the war in Europe. In 1947 my material aunt married my father's first cousin who had been in the American army. He had come to find me after the war, and he found us both. My grandmother and I came to New York a year later, in 1948, and they sent me to live with another family of cousins in the Adirondacks. It was very difficult; I got the feeling that it was a terrible inconvenience to all the adults that I had survived. My story is more typical than atypical; children that survived without parents had to be housed somewhere. Some found happy homes, but a great many of us were very emotionally abused. It was just tough. So, I got married on the early side. I was incredibly fortunate. At age 20 I married a wonderful man, and I was 21 when our first baby was born. People didn't want to be responsible for me, so I took my own responsibility.
ADL:    When did you begin speaking about the Holocaust? Why did you decide to speak?
RF:      I decided to go to the 1991 Hidden Child Conference in New York. I had never spoken about my experiences before; my children didn't know anything about it. It was a really big deal. I started speaking after that conference in 1991. 1600 people showed up from all over the world and it received a lot of media attention; New York Magazine wrote about the founders of the hidden child group meeting in the ADL offices when Abe Foxman was the director. At the meeting itself, there were first aid stations and psychiatric stations set up because for many of us, it was the first time we came to grips with our experience which we had hidden for so long. And because we were the last living generation to bear witness, we were told in no uncertain terms this was to be our mission to speak. That was the way forward from the conference as a larger mission to take it forward. This is what came out of it. We were told this was our responsibility.
ADL:    What do you believe we can do to fight indifference, hatred, racism and antisemitism today?
RF:      That's the whole point of bearing witness – I tell students that you have to combat the four I's: indifference, injustice, intolerance and ignorance. In America is this wonderful mixture. I'm an immigrant and immigrants have done amazing things. We're a nation of immigrants which makes it so rich. There is space in our country for everyone.
I have spent my life fighting for equality. That's why my husband was so active in ADL. We believe that all people are equal. Even with all the difficulties in the world today, I have to be optimistic, because good in the end has to win.