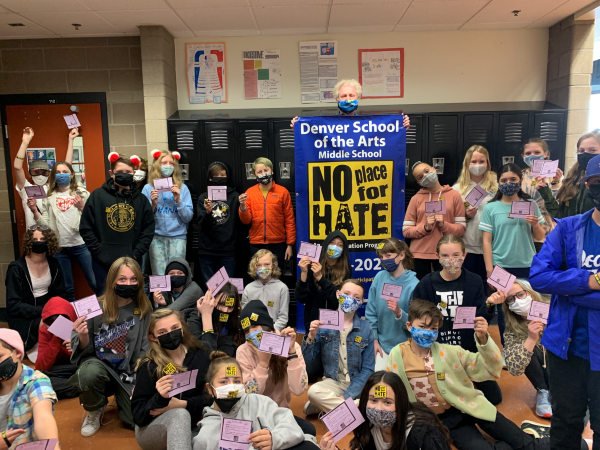 The 2021-2022 school year is around the corner and ADL is ready for another successful and creative No Place for Hate school year. The ADL Mountain States Region is excited to support schools with critical anti-bias education and bullying prevention resources. No Place for Hate 2021-2022 – Registration is open for all K-12 schools in Colorado, New Mexico and Wyoming. Over 35 schools have already registered! Join us now!! The ADL Mountain States Region also congratulates the 84 No Place for Hate schools that earned No Place for Hate designations for the 2020-21 academic year.
The challenges of the 2020-2021 school year were unparalleled, which makes it even more remarkable that ADL had the distinct honor to designate 84 schools as No Place for Hate in Colorado, New Mexico and Wyoming. At ADL's No Place for Hate Celebration Event on April 22, each school earned its official No Place for Hate banner that will hang in a prominent place at the school. The event highlighted the creative and committed work of educators and students during their virtual, hybrid or in-person school year. During these challenging times, ADL was proud to enable concepts, activities and discussions that allowed students to take deeper dives into how to challenge bias and bullying, which helped school communities to develop safe and inclusive learning environments.
At the online event, ADL's No Place for Hate Excellence Awards were presented to Palmer Elementary School (Denver, CO), McAuliffe Manual Middle School (Denver, CO) and Pathfinder High School (Lander, WY) for their No Place for Hate work that went above and beyond expectations. Twenty pieces of winning student artwork with powerful messages and images from ADL's student art competition were exhibited. Visit mountainstates.adl.org to read and see more about these awardees.
To learn more about the No Place for Hate initiative and to register your school for the 2021-22 school year, visit this link or share it with your school: www.adl.org/mountainstates/noplaceforhate. The website features information for educators to discuss with their teams before they register. The Frequently Asked Questions page contains ADL's fee structure and other common questions. How to Become a No Place for Hate School describes the required steps a school must complete within a school year. Questions to Consider provides additional opportunities for administrators to evaluate a school's readiness to join No Place for Hate.
We congratulate our 2020-21 participants and can't wait to work with our 2021-2022 school partners!