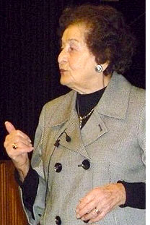 The 2021 ADL Virtual Governor's Holocaust Remembrance Program features a keynote interview with Holocaust Survivor Judith Altmann. Register here.
We recently spoke with Judy about her experiences during the Holocaust and her thoughts about how her experience shaped her.
ADL:   Please describe your life before the Holocaust. What was your childhood like?
Judy Altmann: I had a wonderful childhood. We lived in Czechoslovakia and there was no discrimination. Hungarians, Ruthenians, and all people lived together with no disputes. In my town, there were 15,000 residents, of whom 5,000 were Jews. My family had a general store and a farm, and we lived in a big house. I am the youngest of six; my siblings and I went to the local schools.  I had many friends in the area. Most of my friends were not Jewish; in fact, there was only one other Jewish family with children besides ours.
As I mentioned, there was no inkling of antisemitism when I was growing up. Our non-Jewish neighbors were my father's customers. Sunday was the busiest; people came in and shopped for their groceries, wine, and beer, and then they went into a big room that we had with their lunch and visited and ate and drank the beer.  It was all very friendly.
ADL:   How old were you when the Nazis took power in Czechoslovakia? How did life change for you and your family?
JA: I was fourteen years old. The first big change came when we were occupied by the Hungarians. They completely took over the store; they put in a commissar who took all the profits. My father could no longer be in the store. Jews could no longer go to school. I remember meeting up with my friend Olga and she said, "Judy why aren't you in school?" When I told her about the new regulations, she said, "but you were Jewish yesterday!" None of us could understand what had happened.
After we were occupied by the Hungarians, when they saw a Jewish man with a beard he would be assaulted.  We lived with these conditions from 1939-1944.  The Hungarians were proxies for the Nazis. My parents wanted me to go on the Kindertransport, but I didn't want to leave them and my chances were slim of gaining a spot in any event.
ADL:   What happened after that?
JA: The day after Passover in 1944, two Hungarian gendarmes along with Nazi soldiers knocked on our window at 6:00 AM. They said, "you have half an hour to take all your money and your jewelry and come." We hadn't even put away the Passover dishes yet. We were the last Jewish family living on our street; other families had already been deported to Poland. Our town in Czechoslovakia was only six kilometers from the Polish border. Other Jewish families had already been removed from their homes and forced to march to the border. Some were murdered along the way.
So, what do you take? My father took his prayer book and prayer shawl and his coat. I took my manicure set that had been my last birthday present. My mother didn't want to go at all. She said, "I'm going to drink something," which I understood to mean that she was going to kill herself. I said, "Mommy, you have time later to die." So, she came with us.
We were directed to walk into town, a walk of about six kilometers, and we were directed to the cemetery. We were there for a whole week. One person from each family was allowed to go home to get more jewels and money, so I went home. I found our beautiful German shepherd had stopped eating when we were taken and he had died. I didn't take the jewels; they were buried in the yard and I told our maid to dig them up and bring them to the cemetery, but she never did.
After that week was over, we were taken by train to the ghetto in Hungary. We were there for six weeks and after that, we were taken by train to Auschwitz. We arrived on May 21, which was my father's birthday. I lost 24 members of my family. Only my niece, my nephew and I were selected by Dr. Mengele to work. My niece and I were able to stay together through all the camps, and we both survived.
ADL: What kind of work did you do?
JA: My niece, who was the same age as me (her mother was my oldest sister), and I were sent to camps in Gelsenkirchen and Essen, in West Germany. We worked for Krupp, which at the time was one of the biggest industries making ammunition.
One day, a piece of iron in the factory fell on my left wrist and it broke. I thought I was going to be exterminated in Auschwitz. When a catastrophic injury like that happened, that was to be expected. By the middle of the night it had swollen up, so I said goodbye to all my friends and my niece and I expected to be taken away. But that didn't happen. Instead, the female SS officer woke me up and said, "Come little one and don't ask questions." She took me to the hospital where they put on a cast for the broken arm. On the way back to the camp, she told the Obersturmfuhrer – the overseer – that they couldn't take me away because I spoke many languages. She said, "If the foreman tells someone something, I need her to translate." At the time, I spoke five languages: Hungarian, German, Czech, Russian, and Yiddish. Now I speak seven, including Swedish and English.
ADL: What happened at the end of the war?
JA: In the early spring of 1945, in March and April, the Nazis sent us on a death march. We marched from Essen to Bergen Belsen – a distance of over 150 miles. We walked and walked. It was literally a death march – we were already emaciated and hungry and barefoot. People were dying left and right. The worst was when one of two sisters died, or a mother or daughter died, and we had to drag the other one who didn't want to leave her deceased loved one. It was horrible. But we made it.
ADL:   How were you liberated?
JA: When we got to Bergen Belsen, I was terribly sick with typhoid. I was almost dead. Everywhere you turned, people were dying. There was no food. Each day they would only distribute food in one corner and if you guessed wrong about where to go, you didn't eat. One morning I was lying there very sick and I heard English. I thought I must be dreaming. But the soldier said, "You are not dreaming. You're liberated and the war is over." I was free, but I was still very sick. It took one year to cure me completely. I was in the hospital in Bergen Belsen, and then I was transported to Helsingborg, Sweden.
ADL:   How did you start your life again after the Holocaust?
JA: After a number of weeks, they asked, "Once you recover, where do you want to go?" I asked what the choices were. They said Sweden, so I agreed. My niece said no, and she went home to Czech Republic hoping she would find her brother. Unfortunately, she found out that he had died two days before liberation. Ultimately, she went to Israel. I went to the United States once my quota came up, in 1948.
I was able to immigrate to the US because I had a grandmother, uncles, and a brother in New York. We lived in the Bronx. Within six months, I had met and married my husband, who had come to the States from Vienna in 1939. We were very happy and had two sons; one is a chemical engineer and one is a businessman. Nobody loves this country as much as we survivors do.
In 1975, we moved to Connecticut. I was a technical writer and designer by profession, and my company moved there so we went, too. I designed and wrote knitting and crocheting patterns and instructions for books, including for Good Housekeeping and Needlecraft. This is a profession I learned during the two years I spent in Sweden, and I kept doing it until I retired.
ADL:   When did you begin speaking about the Holocaust? Why did you decide to speak?
JA: I began to speak about the Holocaust right away, even when I was in Sweden. In Sweden, I was invited to Swedish homes, and people asked me where I was during the war. Once I learned to speak Swedish, I spoke to people in their homes, and to school children. I felt the world should know! When I came to the United States, I had a job and we were very busy with work and family life. Once I retired, I started speaking again. I speak in many, many schools. Of course, I speak on Zoom now.
It's important to speak about the Holocaust because it was a different type of discrimination. It wasn't just against a nationality. It was against the Jewish people. Our parents were taken away and killed. Mengele said if the war ends as 12:00, that at 11:55 he will have time to kill us first. So the prognosis wasn't good for us. It was a unique type of hatred.
ADL:   What message would you like to leave with the people who will read this interview?
JA: Raise your children according to your own religious beliefs and teach them right from wrong. If they see anything that is not correct, stand up and don't say, "It doesn't concern me." Because it does! People saw us being taken away from our home. No one said anything. No one spoke up against it. So I recommend that you don't just let it go – it does concern you. If you see any injustice, stand up and do something.
ADL's 40th Annual Virtual Governor's Holocaust Remembrance Program will take place  on Thursday, April 8 at 5:30 pm MT. Information and registration: adl.org/GHRP2021.