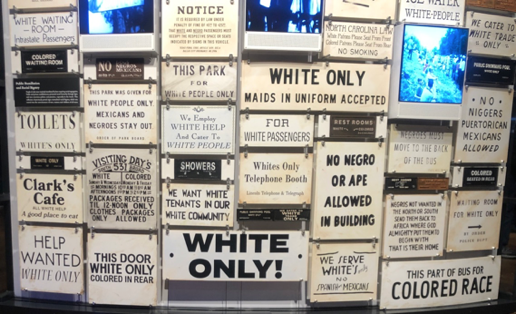 This month's Mountain States Spotlight takes the form of a guest blog post written by ADL Civil Rights Mission participant and ADL supporter Wendy Miller. 
In February, Miller traveled to Georgia and Alabama with 44 other participants in the ADL Mountain States Region's Civil Rights Mission. Following is an excerpt from her blog from the trip.
How far have we really come in sixty-five years?

Sunday Feb. 16, 2020
Atlanta, GA
Our day started with a drive down Auburn Avenue, a historically African American neighborhood that emerged in1906 as a center of black commerce. Dr. Martin Luther King, Jr. was born here in 1929, and it was about ten years later that the beginnings of the civil rights movement took hold. The beginning of what would lead to the civil rights movement started with a generation of ministers and civic leaders on Auburn Avenue fighting for integration, political power and equal pay. Our next stop was Ebenezer Baptist Church where Dr. King's father (Daddy King) and his grandfather, A.D. Williams, were preachers. We were fortunate to attend Sunday services led by the senior Pastor, Reverend Raphael G. Warnock, Ph.D. This link is to the sermon we saw on Sunday Feb. 16, 2020:  www.ebenezeratl.org/watch
In the afternoon, we stopped outside the original National Pencil Company, the site of the notorious 1913 Leo Frank case. In one of the most highly publicized cases in the legal annals of Georgia, Leo Frank – the Jewish manager of the pencil factory – was placed on trial and convicted of raping and murdering Mary Phagan, a thirteen-year old employee of the company. Frank was lynched two years later in response to his commutation of his death sentence, and the incident became the focus of social, regional, political and racial concerns, particularly regarding anti-Semitism.  Today, the consensus of researchers is that Frank was wrongly convicted and that James Conley, a janitor at the company, was the murderer.
Next, we went to the National Center for Civil and Human Rights Museum, which focuses on the achievements and challenges of both the civil rights movement in the US and human rights worldwide. This museum is almost indescribable in its comprehensive collection of artifacts, imagery, and storytelling. One of the most moving experiences was sitting down at a simulated Woolworth lunch counter as protestors disrupted a sit-in. Following directions, I put on my headphones, put my hands on the counter and closed my eyes.  As the screams and hateful voices intensified, I turned around, my body shaking, to assure myself that I was still in a museum. There were sounds of threats, crashing glass, racial slurs, even the simulation of my seat being kicked in. Walking away from this made me so scared and mad to think that because of the color of your skin, you could be treated this way.
Our final stop in Atlanta was at Fair Fight, , https://fairfight.com/   a PAC that promotes fair elections in Georgia and around the country. After witnessing gross mismanagement of the 2018 election by the Secretary of State's office, Stacey Abrams launched Fair Fight 2020, an initiative to fund and train voter protection teams in 20 battleground states. The Secretary of State's office would intentionally only deliver about a quarter of the number of voting machines to certain districts so that lines were either so long and polling places would close before everyone voted or several of the machines were broken. Roughly 30 percent of black voters had to cross at least half of their precinct to get to a polling location.  A multitude of other legal barriers dramatically impacted the elections in Georgia.
Monday Feb. 17, 2020
Montgomery, Alabama
Our first stop in Montgomery was The Equal Justice Initiative (EJI) Museum and Memorial, a nonprofit organization founded and directed by criminal justice reformer Bryan Stevenson.  Stevenson collaborated on the design for the nation's first memorial dedicated to the legacy of enslaved black people, people terrorized by lynching, and African Americans humiliated by racial segregation and discriminatory Jim Crow laws. It was conceived with the hope of creating a meaningful site where people can gather and reflect on America's history of racial inequality. The structure is a group of 800 pillars that, from a distance, appear to be holding up a roof, Parthenon-style. As you get closer you can see that the columns are suspended from above, rather than supported from below. Hanging, they represent the casualties of lynching in nearly 800 counties around the country. The names and dates of each person accounted for on their respective counties pillar. This memorial reminded many of us on the tour of the memorial to the Holocaust in Berlin.
The EJI Legacy Museum, which opened in 2018, is located on a site where enslaved people were once warehoused a block from one of the most prominent slave auction sites in America. Through timelines, interactive exhibits and archival footage, the gallery builds a case that the effects of slavery in the United States have never truly ended. A four-part exhibit divides American racial history: Enslavement in America, Lynching and Racial Terrorism, Segregation Forever, and Mass Incarceration. Unlike other civil rights museums that celebrate individuals such as MLK Jr. and Rosa Parks, this hall underscores the "massive resistance" of white Southerners to Brown v. Board of Education and other desegregation efforts. Brown v. Board of Education of Topeka was a landmark 1954 Supreme Court case in which the justices ruled unanimously that racial segregation of children in public schools was unconstitutional. Brown v. Board of Education was one of the cornerstones of the civil rights movement and helped establish the precedent that "separate-but-equal" education and other services are not, in fact, equal at all. Leaving this museum left everyone numb and it was a very quiet bus ride to lunch at Martha's Place.
In addition to a real southern buffet complete with fried green tomatoes, fried okra, fried chicken, black eyed peas and many other mouth-watering foods, we had the pleasure of meeting with Martha, the proprietor of Martha's Place.
Martha told us her story as we were eating lunch.
"I was the tenth of twelve children born in Montgomery, Alabama. There was no money, but my childhood was full of love. My mother could transform a few vegetables from the backyard into a feast, and never turned away a hungry mouth.

Memories of the warmth of my family's supper table would remain with me. Even as a poor single mother without a high school diploma, I dreamed of one day opening a restaurant that would make people feel at home. I'd serve food that would nourish body and soul. But time went by and that dream slipped further and further away as I battled the onset of what would later become a severe mental illness.

But the thing about hitting bottom is that there's nowhere to go but up. I decided to step into God's promise for my life. My boundless faith and joy led me to meet people who would change my world and lend a helping hand when I needed it most and least expected it."
Martha's Place is now a nationally known destination for anyone visiting the Deep South and a culinary fixture of life in Montgomery. "I only hire folks who are down on their luck, just as I once was. I have proven many times that keeping the faith makes the difference between failure and success."
Our next stop was the Rosa Parks Museum. Rosa Parks is known as the "Mother of the Civil Rights Movement" and the museum and library commemorate her refusal to give up her seat on the Montgomery City Bus to a white man. They are located on the site where the incident occurred. The museum features videos, artifacts, historical documents, a life-size statue of Rosa Parks and a replica of the bus in that she sat in on the day of her arrest.
Our final stop on this intense day was a drive to Selma, Alabama and the Edmund Pettus Bridge. Selma is where "Bloody Sunday" occurred on March 7, 1965.  Nearly 600 civil rights marchers headed east out of Selma but got only got as far as the Edmund Pettus Bridge, six blocks away.  State and local lawmen attacked the marchers with clubs and tear gas, driving them back to Selma. Two days later, MLK Jr. led a symbolic march to the bridge. Then civil rights leaders sought court protection for a third full-scale march from Selma to Montgomery. The march began with about 3,200 people, walking 12 miles a day and sleeping in fields. By the time they reached the capital they were 25,000 strong.  This was the political and emotional peak of the modern Civil Rights Movement. It was so special to have both former ADL Regional Director Shelly Steinhauser (our scholar-in-residence) and Rabbi Steven Foster with us to share their experiences as they marched with Martin Luther King Jr.
Tuesday, February 18, 2020
Birmingham, Alabama
The final day of our civil rights tour took us to church with Bishop Calvin Woods, a longtime Birmingham civil rights figure. Woods, 84, is the president of the Birmingham chapter of the Southern Christian Leadership Conference. Woods was beaten, arrested, and convicted for advocating for boycotts of Birmingham's segregated city bus system and for his participation in public protests. He drove MLK Jr. to the airport for his flight to Memphis, he was the last person in Alabama to see him alive.  He preached, sang and danced his soulful heart out with us. We also visited the 16th Street Baptist Church that in 1963 was the target of the racially motivated bombing that killed four young girls during the Civil Rights Movement.
Our final stop was the Birmingham Civil Rights Institute, a modern museum that includes a rendition of a segregated city in the 1950's, and a replica of a Freedom Riders Bus, and even the actual jail cell door from behind which Dr. Martin Luther King Jr. wrote his famous "Letter from Birmingham Jail."  There is also an extensive collection of documents from the Civil Rights Movement.
I am still overwhelmed by the journey we took, which was of course so much more impactful than learning about the civil rights movement from books. Walking in the shoes of the leaders, activists and volunteers who fought for equal access to voting rights, public education and public transportation was really the best way to learn about the civil rights movement. I was able to reflect on how the past is still very much the present.  So many places in the south remain segregated and the fight for racial equality and justice has not ended because U.S. prisons are disproportionately filled with black men, women and even children. As I walked through the museums, I caught myself thinking about what actions I might have taken, how brave would I have been. I have so much respect for the thousands of people who were willing to make sacrifices to make arguments for rights that should have already been theirs. I will be forever grateful for this opportunity and to have shared it with my own community.
To answer my original question – How far have we really come in sixty-five years? – I would have to say: Not far enough.
"OUR LIVES BEGIN TO END THE DAY WE BECOME SILENT ABOUT THINGS THAT MATTER." 
– REV. DR. MARTIN LUTHER KING JR.