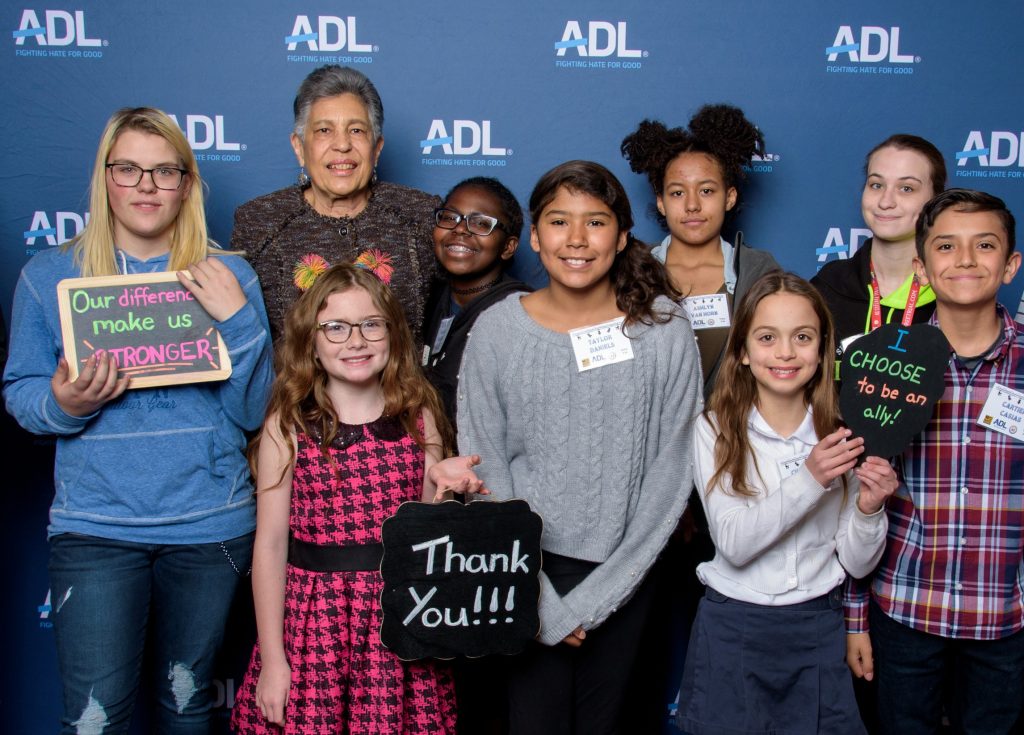 Over 350 attendees celebrated 56 schools receiving their No Place for Hate® designations at ADL's No Place for Hate Celebration Breakfast on April 12, 2019.  This year's breakfast was held at the Arvada Center for the Arts & Humanities, which was a wonderful backdrop for attendees to consider the role they play in their own communities, as an ally, a listener and/or a leader in challenging bias and bullying.
Attendees were treated to a wonderful keynote address from Carlotta Walls LaNier, the youngest member of the Little Rock Nine, which integrated Central High School in Little Rock, Arkansas. Ms. LaNier reminded students, educators and community members that when times are challenging, "We must look to each other, our neighbors, our community, our schools, teachers and others because consideration for all must be paramount."  Ms. LaNier's first person testimony provided a guiding light to many students and adults that may not have known her history. Her story started in 1957, when she was only 14 years old, and was an important event in propelling the Civil Rights Movement.
No Place for Hate Excellence Awards were given to Ann Heiman Elementary School (Weld County 6 School District), Broomfield Heights Middle School (Boulder Valley School District) and Eaglecrest High School (Cherry Creek School District No.5) for their exceptional work throughout the year to bring their communities together and to engage them in challenging subjects, current events and inclusive efforts. ADL's 2018-19 Student Art Contest Winners were also recognized. See their remarkable and creative artwork here.
Generous sponsors enable ADL to work with educators, students and families, which ensures school communities are safe, positive and inclusive environments for all.  Thank you to our supporters: The Jay and Rose Phillips Family Foundation of Colorado, The Curtiss-Lusher Family and The Gerald and Roberta Quiat Family Foundation, JEWISHColorado, The Melvin & Elaine Wolf Foundation, Hank & Cheryl Saipe, Rollie R. Kelley Family Foundation as well as many other generous supporters.
ADL is grateful to all its school partners and looks forward to having another successful year commencing in the fall of 2019. Registration to participate in No Place for Hate® for the 2019-2020 school year will open by the end of April. Check our website for more information.