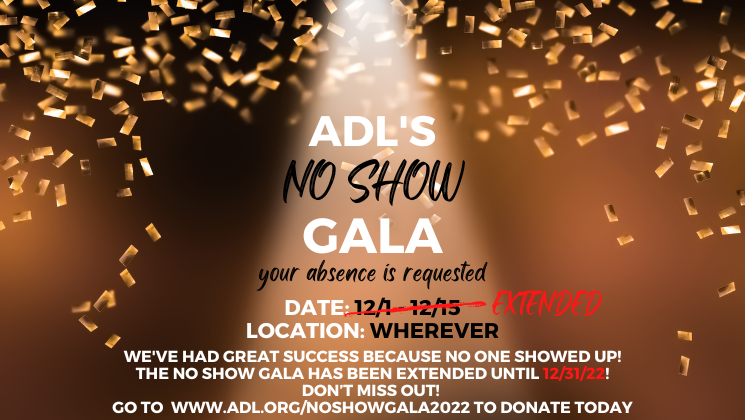 We are grateful for the generosity and support that has enabled us to continue our mission of fighting hate for good in the Mountain States Region. You helped us respond to antisemitism and acts of bigotry and hatred and to secure justice and fair treatment for all.
It's due to the tremendous generosity of everyone including our regional board members and monthly donors to the foundations, grantors and event supporters that we could have this positive impact in our region. Thank you!
And, it's not too late! Give a gift by January 31 to start off 2023 by helping ADL fight hate for good and you'll receive the special NO SHOW GALA Spotify playlist, curated just for our valued NO SHOW GALA donors. Click here.
For those that participated in our 2022 NO SHOW GALA with a tribute to a special person in their lives, we recognize you and your loved ones below.
In honor of my incredible wife and inspiration, Jan!

Shelly Steinhauser
In honor of those murdered and traumatized at Club Q. May we fight hate and bigotry and spread love and peace to one another. Love always wins!
Shawna Schultz
In memory of my mother, Ruth Marx Stark, who taught me to value every human being and to fight for justice and civil rights for all.

Susan Stark
In memory of my brother, Norman Levy, for his leadership to ADL.

Samuel Levy
In tribute for their Leadership and Dedication Louis G Isaacson Z"L" and
Kenneth J Heller Z"L"

Dr. Linda Heller
 In Honor of Scott Levin's Birthday

Rick Wedgle 
In Honor of Scott Levin's Birthday

Susie and Perry Moss