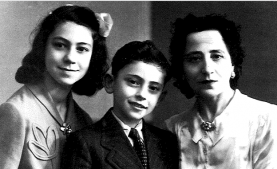 The Anti-Defamation League Mountain States Region is pleased to share with our community the following article by Stefan and Serge Goldberg, second generation Holocaust survivors and supporters of ADL's Hidden Child Foundation. Keep reading for the Goldberg family's remarkable story of survival and legacy for the future, the result of years of serious and significant research.
"Holocaust Awareness Life" might describe the mindset of Holocaust survivors and their children better than "Holocaust Awareness Week." The Holocaust determined our existence as directly as the Exodus from Egypt defined the first generations of Jews wandering through the desert and into The Promised Land. It is similar to how the experience of transatlantic slavery permeates the lives of generations of African American survivors. We are grateful for the opportunity to share an account of our family's search for information, understanding, meaning, and value that continues to evolve. Personal and global circumstances keep changing and influencing how we understand and communicate our relationship with the Holocaust. Learning more about our family during and before the inter-war period is part of our larger project. Describing our search in this piece of writing has been gratifying.
Goldberg Family History: Immigration and Jewish Identity
The Goldberg family moved to Boulder, Colorado from Arvada, CO in 1964, following our father's architecture practice. Stefan was 9 years old, Serge was 4, and Alex was 2. Once in Boulder, our parents joined 15 other Jewish families to start Boulder's first Jewish congregation and to build its first synagogue, Congregation Har Hashem. At least three strains of Judaism converged in our family, forming how each of three sons developed separate interests in understanding our family origins and observing our religion.
The most dramatic influence on what it meant to us to be Jewish came from our mother, Anni. Our mother's Judaism was like her French language, part of her but not something she wanted to display. Our mother and her brother, Benno, had survived the Holocaust, separated from their parents and hidden by two Catholic families in Brussels and other nearby locations in Belgium. Shortly after separating from the children, their parents were arrested and sent to Auschwitz, where they were murdered. Anni and Benno immigrated to the United States in 1948 at ages 13 and 10 and, through many challenges and adventures, joined our father's family in Washington, DC, with our parents marrying in 1952. After three years in the US Navy, our parents moved to Denver, CO and five years later to Arvada.
Two additional strains of Judaism came from our father's family. Our father's maternal grandparents had been observant Jews from Ukraine and Lithuania. Our grandmother's father was a Jewish educator, teaching at a cheder, and our grandmother grew up as a Conservative Jew. Our father's grandfather had immigrated from Lithuania as a teenager, before training as a glazier and participating in the early 20th century movement for workers' rights in the US. He had a minimal religious observance, although Yiddish remained his most fluent language. Neither our father nor his father had a Bar Mitzvah, even though our father, at his mother's insistence, was trained and equipped for one. Our paternal grandfather entered his family business as a glazier and installed the windows in the new (1951) Adas Israel synagogue in Washington. Our father's personal reason for leaving the East Coast was to avoid being drawn into the family business. Our parents also wanted to get away from problems with both sides of their family.
We grew up mostly secular, believing we were alone in the world as a nuclear family, except for separate one-week visits about once a year from our father's mother, Frances Goldberg, and our mother's adoptive parents, James and Charlotte Linde, occasionally going to the synagogue our father designed and helped build.
Discovering origins: The Bearing Witness Retreats
Years later, in an article about Peter Matthiessen's then-forthcoming book, In Paradise, Serge learned about the Zen Peacemakers' Bearing Witness Retreats in Poland at Oświęcim and Auschwitz, where our maternal grandparents had been killed in 1942. The Auschwitz and Birkenau industrial death camps are about a mile from The Center for Dialogue and Prayer, the Retreat's host facility in Oświęcim. Although we grew up with our mother's settled (though unsettling) belief that her parents had been killed at Dachau, our uncle's need to know more about his parents led him to do more research, documenting through historical lists and certificates that Auschwitz was their final destination. Our mother passed away in 2007. No longer constrained by our mother's need to protect herself and her children from painful memories and discoveries about her childhood, Serge, partially inspired by In Paradise, attended the Bearing Witness Retreat at Auschwitz in 2014. Serge describes his discoveries as a testimony and reflection in the book Pearls of Ash & Awe: 20 Years of Bearing Witness in Auschwitz with Bernie Glassman & Zen Peacemakers, edited by Kathleen Battke, Ginni Stern, and Andrzej Krajewski, and published by Edition Stenrich, in Berlin in 2015.
Directly after the Bearing Witness Retreat, Serge, with the assistance of local connections, some of which were made at the retreat, went in search of some of our family roots. He first visited Essen, Germany, where our mother and uncle were born in 1935 and 1938 and found the location of their home. No trace remained of its pre-war neighborhood, since it was close to the Krupp munitions factory, which the allies devastated with bombing during the war. He also visited the Alte Synagogue of Essen, where our grandfather, Ludwig (Luzer) Gerszonowicz, taught Hebrew. The synagogue was badly damaged in 1938 during Kristallnacht, the event of our mother's earliest memory, but survived the Allied bombings. From Essen, Serge visited the neighborhoods in Brussels where our grandparents, Ludwig and Pepi, and their children found refuge after fleeing Germany, and waited anxiously, but ultimately in vain, for approval from the US State Department to emigrate to the US. He also found the house where our mother and uncle had been hidden by a Catholic family, separated from their parents for safer hiding. After Brussels, he visited the memorial and museum of the deportation camp in Mechelen, where the Gestapo took our grandparents after neighbors reported them as Jews in hiding. On a wall in the Mechelen memorial Serge found photographs he recognized of them from before the authorities transported them to Auschwitz.
We attended another Bearing Witness Retreat at Auschwitz in 2015 with our father, Stanley. Stanley's experience reinforced his belief that this place and its WWII history show more than anything else that Israel must stand strongly against antisemitic populations and genocidal ideologies. Stefan summarizes his experience with the observation that the retreat, with its 120 participants from many countries, was a celebration and acknowledgement of the value and importance of diversity in a place built to destroy diversity. We developed several lasting friendships during the week of tours, meditation, and formal and informal meetings. We participated in another Bearing Witness Retreat there in 2017 and expanded that trip to explore the birthplace of our grandfather, Częstochowa, Poland, and locations of his close family, mostly in Częstochowa and Łódź. After Poland, we visited people and places of family importance in Brussels, Antwerp, and Mechelen in Belgium.
Yad Vashem and the Righteous Among the Nations Award
Our uncle, Benno Gerson, had contributed substantially to the development of the United States Holocaust Memorial and Museum. The Development Director had previously encouraged him to seek and obtain official recognition for the family that had hidden and protected him and our mother during the war as "Righteous Among the Nations," but Benno had resisted taking on the project. The distinction is granted by Yad Vashem, Israel's institution for Holocaust Remembrance. Yad Vashem's website states that "the Righteous Among the Nations, honored by Yad Vashem, are non-Jews who took great risks to save Jews during the Holocaust." The award does not distinguish between saving one life and saving many. After learning of Serge's experiences at the Bearing Witness Retreat and associated travels and family research, Benno agreed for Serge to complete an application for Mrs. Andries to receive this recognition.
Serge researched, assembled, and showed a large application package to Benno for review and the two of them sent it to Yad Vashem in April 2015. Yad Vashem responded enthusiastically to the application and referred Serge to Evelyne Haendel for help with further research in Belgium. Yad Vashem requires a thoroughly documented evaluation with a well-supported conclusion of reality before accepting any story as true and including it in its records. For the Righteous Among the Nations award, Yad Vashem requires the presence of a living relative of each rescuer to whom the award is granted. Herself a Hidden Child, a member of ADL's Hidden Child Foundation, and a professional researcher, Evelyne found documentation confirming the survival story of Anni Andries Goldberg and Benno Mark Gerson and of the woman most responsible for protecting them during and after the war: Marie Vanden Bergh Andries. Her husband Paul (Jean Joseph), and their close cousins, Jean Rampelberg and Elisabeth Andree van Laethum, and their young son Albert, contributed significantly to hiding the children. Stefan contributed to finding the Rampelberg family, partly by making telephone calls in French to Belgium. We found the Rampelbergs' granddaughter, Françoise Rampelberg, a medical doctor, business leader, and philanthropist living in Switzerland. Françoise met the requirement of being a direct descendant of the rescuers. She graciously accepted Yad Vashem's invitation to receive the award in person on their behalf.
Coincidentally, shortly after receiving our application, Yad Vashem staff reported that they found our grandparents named in testimony previously submitted to them by a Singer family. Serge had found among our mother's hidden papers that her mother's sister had married a man with the last name of Singer. The Singer report also included two family photographs that exactly matched original prints that Serge found among our mother's papers and photographs from Belgium, one of which included our mother as a young child sitting with her mother. We learned that our grandmother's sister, Malca, had lived with her husband, Shraga Feivel, a son, Max, and three daughters, Naomi, Etti, and Ruth, in the same house as that of our grandparents and their two children in Essen until the end of the 1930s. Through a series of improbable events, the whole Singer family survived the war and its aftermath, reunited in Israel, and continues to thrive in Israel and the United States.
When Benno and Serge called Max, in Tel Aviv, Israel, from Serge's home in Boulder, they connected for the first time since Benno was an infant. Max, with his oldest son, Amit, translating, said he remembered playing with his younger cousins outside their home in Essen before the war. A few months later we met Max's three children, Amit, Ilan, and Dalit, and some of their children in New York City, bringing the families of Pepi Klipper Gerszonowicz and Malca Klipper Singer together for the first time since before WWII. Our younger brother, Alex, traveled with his wife, Karen, to Israel to meet Max and his wife for the first time in October 2016.
Benno, Stanley, ourselves, and our families traveled to Israel for a November 2016 award ceremony at Yad Vashem, attended by the Belgian ambassador to Israel, a representative of the US ambassador, and our extended families. Yad Vashem presented the award to Françoise Rampelberg, representing her great aunt, Marie Vanden Bergh Andries and her husband, Paul (Jean Joseph) and Françoise's grandparents, Jean Rampelberg and Elisabeth Andree van Laethum, Françoise's grandparents, on a beautiful sunny day on the hillside outside the memorial and museum. Benno and Françoise together unveiled the newly carved names in the Belgium section of Yad Vashem's wall honoring rescuers.
Building Lasting Connections
The Bearing Witness Retreats at Auschwitz-Birkenau brought us and our families awareness that our mother and uncle, Anni and Benno, were not as alone in the world as they had grown up believing. First cousins in Israel and their children have become a cherished part of our lives. We developed close friendships with Françoise in Switzerland and Evelyne in Belgium. Sadly, Evelyne passed away in 2021. Also, in 2021 a documentary film, Misha and the Wolves, was released. The film highlights her warmth and compassion, presenting her work and her devotion to truth. This movie shows Evelyne, expertly and patiently evaluating another story, searching to determine its truth.
We enjoyed time with Evelyne and Françoise in Brussels after the 2017 Bearing Witness Retreat and made new discoveries. Visiting the addresses where our mother, uncle, and grandparents had found at least temporary refuge during the war, we, along with Françoise, also found a highly secured old orthodox synagogue in what appeared now to be a primarily Muslim neighborhood. A small group inside was celebrating the sabbath. The group joyfully welcomed us to join the service, bringing their number up to the 10 required for a minyan (traditional quorum), while Françoise sat off to the side with another woman and her children, respecting orthodox practice. One of the men had survived the Bergen Belsen camp, and upon learning our story, told us that most of the families in attendance had lost loved ones similarly. Françoise also went to Mechelen with us and found information there that led her subsequently to learn more about the frightening wartime experiences of her mother's parents. Information learned at Mechelen also brought new solace to Benno when it was shared after the trip: his parents had been spared at least one bit of suffering – they were transported east to Auschwitz in a third-class rail car rather than in a cattle car. It would be the last train from there transporting prisoners in passenger cars.
COVID-19, Russia's invasion of Ukraine, and advancing years have interfered with some additional family research activities we have planned. We continue our search to learn more about our origins, to understand better our place in the world, believing that the search itself also helps to make the world a better place, even if only in small ways. We plan to return to Oświęcim and its Center for Dialogue and Prayer, again to celebrate diversity at a place that invaders stole from Poland to destroy diversity, to visit Auschwitz again, and to meditate again on the selection ramp at Birkenau. As we explored our grandfather's origins in and around Częstochowa in 2017, we look forward to exploring our grandmother's birthplace, Vyzhnytsia, in Ukraine.
 Notes
Some names of persons and places have several versions and spellings, because of movement across languages, changes over time, and issues of transcription and memory.
Three hyperlinks are included in the text, with full web addresses given here.
Righteous Among the Nations page on Yad Vashem website(https://www.yadvashem.org/righteous/about-the-righteous.html), last accessed 2022-04-09
November 2016 award ceremony at Yad Vashem, rescuer database page of "Andries Joseph & Marie (Vanden Bergh)" with photos (https://righteous.yadvashem.org/?searchType=righteous_only&language=en&itemId=11605646&ind=0), last accessed 2022-04-09.
New York Times review of 2021 documentary film featuring Evelyne Handael, Misha and the Wolves (https://www.nytimes.com/2021/08/11/movies/misha-and-the-wolves-review.html), last accessed 2022-04-09
References included in the text in addition to the hyperlinks
QUOTE: ""Mr. Matthiessen, who has participated in three Zen retreats at Auschwitz, said he has long wanted to write about the Holocaust, but that because he is not Jewish, he did not feel qualified. "But approaching it as fiction — as a novelist, an artist — I eventually decided that I did," he said. "Only fiction would allow me to probe from a variety of viewpoints the great strangeness of what I had felt."
Pearls of Ash & Awe: 20 Years of Bearing Witness in Auschwitz with Bernie Glassman & Zen Peacemakers, book edited by Kathleen Battke, Ginni Stern, and Andrzej Krajewski, published by edition Stein rich, Berlin in 2015
Ending with the word "Ukraine" is intentional.