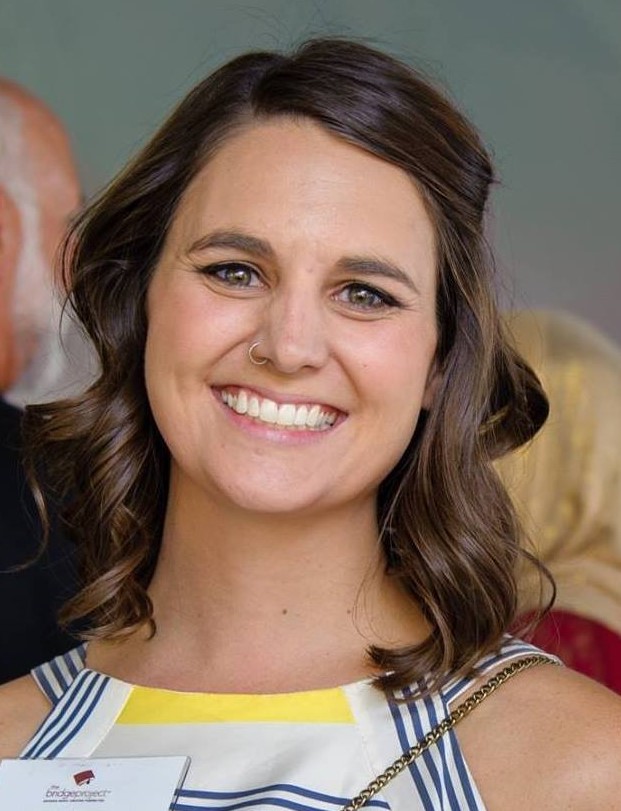 ADL Mountain States Associate Development Director Asha Holsopple shares her passion for her dog Sammy and for raising funds for worthwhile causes like ADL.
Why did you decide to become involved in ADL?
I've always known about ADL. My mom worked with the Chicago ADL office in the process of bringing a Holocaust exhibit to her school in Indiana and she brought her students to ADL to be trained as docents for the exhibit. When I saw the job opportunity posted for a position at the Mountain States Regional office in Denver, it seemed like a really good fit since I believe wholeheartedly in the mission.
What do you most enjoy about working at ADL?
The people! There are some incredible, brilliant, articulate and passionate folks who work at ADL across the country, and it is a delight to work every day with people who are so incredible.
You recently completed a certificate program at the Institute for Leaders in Development at the University of Denver. Tell us about that.
It was a fantastic learning opportunity that gave me many more tools in my toolbox that will enable me to become a more solid development professional.  I learned valuable skills and gained resources for gift planning, major gift solicitation, relationship building and donor retention strategies among a host of other things. Fundraising is truly the avenue that enables the work of ADL and gives our team the ability to do the best job possible in the community.  I also loved meeting other people who are passionate about fundraising for their organizations doing incredible work in Denver.
Tell us a bit about yourself.
Favorite holiday? My favorite holiday is Christmas because that is when I see my family, and I love that.
Favorite food? My favorite food is popcorn. I eat an embarrassing amount of popcorn every week. I have this amazing seasoning that has paprika and chili powder that I sprinkle on it.
What are you reading? I am currently reading The Little Friend by Donna Tartt, an earlier work by the author of The Goldfinch. It's an interesting story about a young girl whose brother died mysteriously.
What's a special place you have visited?
I've been to 21 countries but my favorite place in the whole world is a small game preserve in the Kingdom of Swaziland called Nkhaya. My family used to visit there on vacation every year when we lived in Swaziland and Mozambique.
What's something that people would be surprised to know about you?
I studied ballet for ten years, including dancing with the Mozambique National Ballet when I was a child.
What are you passionate about personally? What can't you stop talking about?
My dog, Samson Nymeria. Sammy is a lab great Pyrenees mix. He's 100 lbs. of pure fluff, and I love him.
Where can we find you when you're not working?
Snuggling with my dogs, including my partner's dog Telluride, a lab Australian shepherd mix; reading a book; on a bike ride with my cycling team, Team Stay Phat; or with my partner, Drew.
Tell me a story that immediately pops into your mind that was a defining or significant moment for you.
I began my nonprofit career working for a domestic violence shelter / rape crisis center in Southern Colorado. While the work itself is critical and I am passionate about ending violence against women, it became more and more challenging for me to be in a space where trauma was so prevalent. I turned to fundraising as a way to support the movement and the work without traumatizing myself in the process. Fundraising has now become my true passion. It is a sustainable way to support the important work that we do at ADL.
Complete this sentence: For me, ADL is …
… A community of passionate, dedicated folks working to make the world a better place.