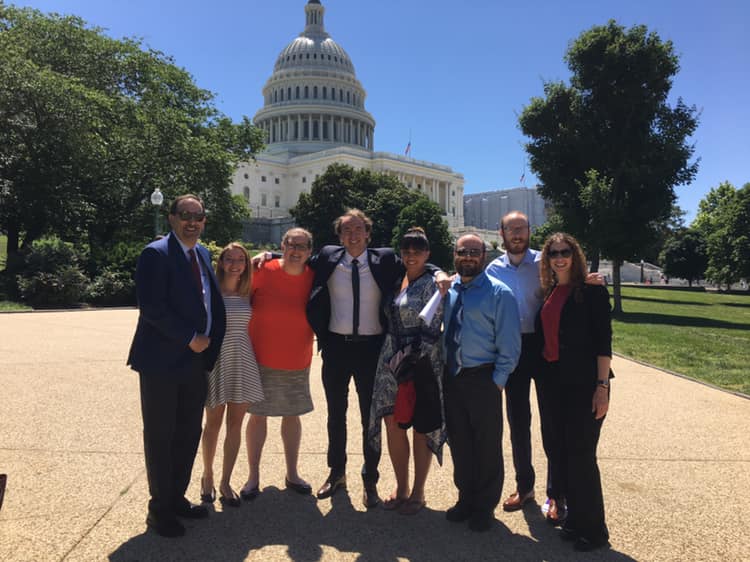 Members of ADL's Robert B. Sturm Mountain States Leadership Fellows Program joined with 600 ADL leaders and activists from across the country from June 2-4 in Washington DC for ADL's annual National Leadership Summit. Government officials, policy experts, journalists, opinion makers and other public figures addressed the participants on some of the most critical issues of the League's agenda.
Featured topics and speakers included:
President and CEO of George W. Bush Presidential Center, Ken Hersh; Israeli author and journalist, Yossi Klein Halevi; New York Times Opinion Editor, Bari Weiss; Minority Leader, Congressman Steny Hoyer; President and CEO of the Leadership Conference on Civil and Human Rights, Vanita Gupta.
Congressional delegations, including Senate Minority Leader, Charles E. Schumer; Congressmen Eliot Engel, Ted Deutch, Randy Weber, Marc Veasey, Brian Fitzpatrick and Hakeem Jeffries.
Tenth Anniversary Commemoration of the Matthew Shepard and James Byrd, Jr. Hate Crimes Prevention Act
Members of the Mountain States delegation also met with Senators, Representatives and staffers in the offices of Senators Michael Bennet and Cory Gardner, and Representatives Diana DeGette, Jason Crow and Joe Neguse, regarding areas of legislative interest to ADL.
Applications are now being accepted for ADL's 2019-2020 Robert B. Sturm Mountain States Leadership Fellows Program. The Program was created in order to involve people between the ages of 25 and 40 who are committed to ADL's mission "to stop the defamation of the Jewish people and to secure justice and fair treatment to all," and the work of the League. The Sturm Fellows Program, which runs from September-June, exposes participants to educational programming about the substantive issues of ADL's agenda and gives them the opportunity to become ADL leaders in the community. A highlight of the Program is attendance at the ADL National Leadership Summit in Washington, DC.
Applications are due by August 1, 2019. Applicants will be notified of acceptance decisions by the middle of August. Through this competitive application process, ADL recruits and invests in a diverse group of young people that are committed to civil rights, religious freedom, and anti-bias education. While ADL accepts nominations from community members for potential Sturm Fellows, applicants need not be formally nominated to apply.
Upon acceptance, Sturm Fellows are required to sign an Acknowledgment of Expectations, reflecting their commitment to attending:
An orientation session
Monthly meetings highlighting an ADL issue and/or program area. Sturm Fellows are advised of all meeting dates if accepted into the program and are expected to miss no more than two meetings. Missing more than two meetings may impact a participant's eligibility to attend the National Leadership Summit.
The National Leadership Summit in Washington, D.C., which will take place in the spring of 2020 (participants pay their own travel costs and a registration fee, which is partially subsidized by ADL).
Sturm Fellows will also have the opportunity to attend:
All ADL Board of Directors meetings (two at no cost)
ADL Fall Dinner
ADL Civil Rights Awards Reception
ADL's No Place for Hate® Celebration Breakfast
ADL's Governor's Holocaust Remembrance Program
Meetings of ADL's standing committees
All Sturm Fellows are asked to participate in ADL's annual campaign by making a minimum contribution of $250 per participant. Please contact ADL Associate Director of Development at aholsopple@adl.org for more information or download the application today!